Aphrodite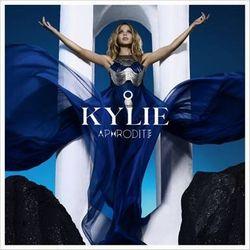 Who can hate Kylie? She's an Aussie superstar in Europe, Britain's most beloved celebrity, and a global gay icon. She survived several decades in the entertainment business, even flourished there, and perhaps most impressively, also beat breast cancer. After she finished chemo in 2006, she headed back to the studio. Her second album since then, and her eleventh studio album, Aphrodite is an ethereal blend of her pop sensibilities and down-tempo club jams.
Minogue's strength has forever been in singles, and Aphrodite doesn't contain anything as strong as classic hits like "I Could Be So Lucky" or "Can't Get You Out of My Head." That said, it's a fine album of danceable pop enthusiasm and is peppered with themes of personal liberation and freedom on the dance floor.
Opening track and first radio single "All The Lovers" is a bittersweet tribute to a current love. Breathy and infused with raw sexuality, she sings, "All the lovers/That have come before/They don't compare/To you." While not yet a single, I'd be surprised if the title track doesn't get some airplay. One of the more catchy songs about how Minogue is "original, a golden girl," it relies on her standard charming rhymes like "kiss me/miss me," and I imagine more than a few anxious DJs will seek this one out for club remixes.
"Get Outta My Way" is both about personal empowerment and kicking no-good dudes to the curb. In typical tough gal Kylie fashion, she keeps repeating, "Now I showed you what I'm made of.
This album won't change your life, but it could liven up a party, a long drive, or a jog around the lake. My slightly Eurotrashy self will definitely be keeping this in rotation this summer.