ARTitude Zine (Issue #23: Winter 2006)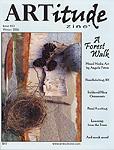 Sweet and sincere, ARTitude Zine includes well-written articles by and about artists and their processes, nifty project ideas with full instructions, and full-color pages displaying readers' work. In this issue, most of the works (and articles) were by women – and judging by the letters to the editor and the "Ask ARTchick" column, the zine provides a lot of female artists with a real sense of community.
Among the zine's archival images of Victorian ladies and cute children holding flowers provided for readers to use in collages - and a listing of back issues including "Domestic Goddess," "Bathing Beauty," "Polkadots and Moonbeams" and "Material Girl" - I was surprised to see "Naughty Knotty Necklace," a project by "sassy gal" Elizabeth Dunn. She writes, "Words like 'Pimp,' 'Ghetto' and 'Addict' are expressions that complement my sense of humor," and shows us how to make her pendant emblazoned with the word "Ghetto." I have to admit, I was hoping there would be something "edgier" between these covers, but I think "questionable" describes this suggestion a little better. Even this project, though, provides folks with the tools, information, and ideas they need to create their own unique works.
The focus of ARTitude Zine may be on collage and assemblage, but the featured work and projects include diverse techniques that range from soldering to biting birch bark, and the results look more like something you'd find at a hip craft fair than at a scrapbookers' meetup. And while it may be a little too flowery for some folks, some women will find in ARTitude Zine a crafty community, welcoming new artists with open arms.