Aviator Tee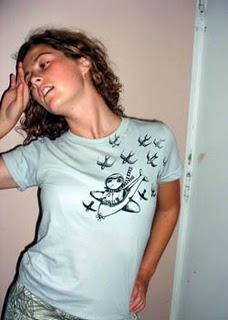 When I first discovered this t-shirt, I was pleasantly surprised. I have to say, though, I was a little taken aback with the color. It is not something I would normally choose to wear. I usually go for more formal colors in whites, blacks and muted shades. I immediately put it on to test it for form, shape and length. It was marked a large, but it felt like a small to medium on my frame. I was a little disappointed with that.
I did, however, study the amusing scene trailing across the upper right shoulder of the garment. It features a girl flying a plane. She looks melancholy, with a cigarette hanging from her mouth. A scarf of stripes flies in the wind behind her. There are birds flying all around the plane. The plane itself is bright red, which really catches your eye. She has on a cute little jacket, emblazoned with a red crest, and a little cap and jacket to finish the ensemble.
On a positive note, it felt good on and, upon further inspection, was actually made of 100% cotton, which is great because we all know that cotton breathes. The washing instructions were simple and required just a warm wash and tumble dry. This is certainly an easy garment to care for, which is always a plus considering our hectic lives. After wearing it for a while, it remained comfortable on the skin, and I like the shorter sleeve length.
I would say that other than the fit and the color, this is a good little tee. It is fun and vibrant with a sense of whimsy, which we can all use from time to time.