Baby Remember My Name: An Anthology of New Queer Girl Writing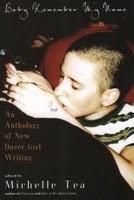 Upon discovering Michelle Tea had edited a new anthology of queer girl fiction, I completely lost my butch identity as I jumped up and down and squealed in excitement. Before I even glanced at the first few pages of ­Baby Remember My Name, I assumed that each short story would revolve around some lesbian in San Francisco doing too many drugs, drinking too much alcohol and pining away over the wrong girl with endless packs of cigarettes. It's the San Fran queer girl writing that I just can't get enough of, and I was thrilled to see what new adventures I would read about this time. The new anthology, however, surpassed any fantasies I had about queer girl writing, and opened my mind up into a whole new way of thinking about queer literature.
Let me tell you why Tea and her new anthology are so amazing. First of all, the writing is queer, not just lesbian or gay, but queer. Now what that means is that all of the selections embrace difference, challenge normative notions of what literature and story telling should be and influence the reader to conceive of the world in a different way. For example, one piece in this collection is about a young Hispanic boy who doesn't understand why everyone insists that he is a girl. He compares his own situation to that of his flamboyant uncle and questions his parents as to why no one minds that his uncle acts feminine, but they all hate it if he acts like the boy he knows he wants to be.
Another reason why I'm in love with this book is because it approaches the idea of love from so many different perspectives. In one story, there's a young girl living with her drug addicted parents in the government-issued trailers post-Hurricane Katrina, who gets butterflies in her stomach every time she helps her neighbor, Gloria, cook dinner for their families. Another perspective on love comes from a woman who witnesses the love grow between two loud and annoying pigeons outside of her apartment window. And finally, in the form of a graphic novel, there's a story about a love/hate relationship that emerges when a group of roommates realize they have free cable.
And that brings me to my third reason as to why I am infatuated with this anthology; not only does Tea include different forms of fiction, memoir and a combination of both, but she also decided to bring graphic novel selections into the mix. In summation, there's something in this anthology for everyone. You've got your hot lesbian sex scenes, a creative catharsis on drugs and love, drawings that depict the small insanities of life and a constant, political, pulse throbbing throughout each story. And if you're jonesing for some new San Fran queer girl writing, look no further—there are a couple pieces included for you, too. Tea doesn't leave any type of reader disappointed with her amazing selections.