Baked Explorations: Classic American Desserts Reinvented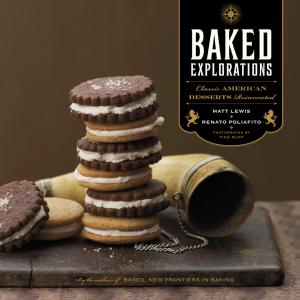 Everything good these days seems to be coming out of Brooklyn, so I wasn't surprised to find that Matt Lewis and Renato Poliafito, authors of Baked Explorations, have a tremendously successful bakery in Brooklyn that is garnering national attention—not to mention a whole lot of love for from the food-centric blogosphere.
This is the second book by the duo; their first was aptly titled Baked and named after their bakery. Lewis and Poliafito are becoming known for upping the ante and recreating run-of-the-mill sweet treats; think the usual suspects—brownies, pound cakes, scones—but on steroids. Their latest cookbook is in the same vein but aims to put a clever spin on classic American desserts. During their travels, Lewis and Poliafito were often approached by fans who wanted to share their favorite desserts that have been passed down through generations at "church suppers and small town gatherings." Many of these were hyper-regional or long thought of as passé or just plain bizarre, like Mississippi Mud pie or Jell-O pretzel salad—a favorite at Mormon gatherings. (I can personally attest to this—don't ask.)
Thumbing through a baking cookbook, especially one as stylish and hip as Baked Explorations, is equally enticing and discouraging to me. As I've said before, I do not enjoy baking, mostly because I'm very bad at it and looking at page after page of perfectly executed desserts only reminds me of how inferior my baking skills are. That being said, Baked Explorations isn't all towering, perfectly-iced cakes and multi-tiered treats. There are many recipes that not even I could screw up, including a no-bake cookie.
The first thing that caught my eye was the second recipe in the book, intended for breakfast: pumpkin cheddar muffins. The combination sounded a little odd, perhaps even a tad gross, so naturally I was intrigued. This time of year I'm all about simple pumpkin goodies and have been known to churn out countless pumpkin chocolate chip cookies and more than a few loaves of pumpkin bread. I love when sweet and savory collide and these little gems do not disappoint. Since receiving Baked Explorations just one month ago, I've made these pumpkin cheddar muffins a total of six times; I've eaten them for breakfast, I've dipped them into bowls of turkey chili, and sopped up the last bit of soup in my bowl with them. They are dead simple to make and taste just like you think: cheesy and pumpkin-y, but they're also spiked with a bit of cayenne pepper that hits your throat ever so slightly after each bite. They are divine.
I really wanted to talk about the Nutella scones, which in theory are perfect. Nutella is a decadent chocolate hazelnut spread from Italy and when you combine it with a chocolate scone and chopped hazelnuts, you should have heaven on a plate. I had a dry hockey puck, but I hope others will have more luck with these than I did. In my defense, making a good scone has a lot to do with baker's intuition, which I have none of. Plus, the directions for rolling the scones out were complicated at best.
For those of you yearning for diabetes, I highly recommend making the double chocolate loaf with peanut butter and cream cheese spread. I love simple bread/loaf recipes that don't require yeast or kneading and much like the pumpkin cheddar muffins, this recipe was incredibly easy to whip up. It's rich, it's decadent, and it made my toothless eighty-year-old great uncle giggle like a schoolgirl. To me, that's the ultimate test of a recipe's yum factor, and this one passed the test with flying colors.