From A Basement On The Hill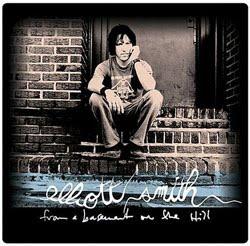 My indie cred—if you want to call it that—is this: I was at one of Elliott Smith's last shows. At the Northwestern University A&O Ball in 2002, Smith attempted to open for Wilco, fumbling with his guitar, breaking a string, complaining that his hand fell asleep, and never really finishing a song before trudging off stage an hour later. My friends and I were so angry and disappointed. "Is he on drugs?" If only we'd known the truth. If only anyone had known what was to come. A year and a half later, Smith committed suicide by stabbing himself in the chest.
I love Elliott Smith's music. I'm a sad former college radio nerd who grew up at the height of his popularity. "Miss Misery" is undoubtedly one of my favorite songs, in part because I love any movie shot in Boston and featuring under-the-radar music. But after he died, I couldn't bring myself to listen to From a Basement on the Hill. Tragically, I'm a pro at handling death in the short term, but posthumous releases sort of freak me out. What's done is done, right? What does it mean if the artist isn't here to be a part of the production or release of his or her work? Only recently did I pick up some posthumous 2Pac and feel good about it. A decade later, I apparently come around.
Kill Rock Stars, arbiter of northwestern indie cool, recently got the rights to the 2004 release from ANTI-. Anyone who got a first listen in, well, the past five years, knows that this album is beautiful but sad. Songs like "A Fond Farewell" are reminiscent of XO. Others dabble in noise rock with strange layers of buzzing and bird noises attached. The album, sort of like Smith's life, feels like a celebration on a rainy day. You could try to be the happiest person in the world, attempting revelry with friends, but inevitably, there will be a dark cloud on the horizon. That's just how some of us are made.
Such a large percentage of From a Basement on the Hill deals in morbid fare: goodbyes, being a fuck up, memories, drugs, feeling lost, trying to keep it together. I'm not the first to say that it all feels foreboding, even now that we know the end of the story.
But you don't listen to think back in sadness. You listen to remember why you ever listened at all. Elliott Smith made incredible music during his short time on Earth. If you're as silly as I was—to largely overlook this album for the last few years—go grab a copy and remember the good times with the floppy-haired guy with the acoustic guitar and mellow voice. And if you never discovered Smith while he was alive, you still have time. Take advantage.