Between the Sheets: Nine 20th Century Women Writers and Their Famous Literary Partnerships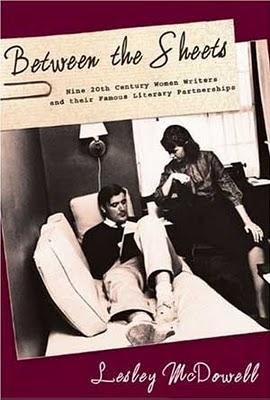 The adage, "Behind every great man is a great woman," is a backhanded compliment to women, and one that implicitly avers a submissive feminism of codependency. At first glance, it is easy to misjudge Lesley McDowell's Between the Sheets as a kind of backward-feminist interpretation of women writers' literary careers, such that the success of these writers was primarily a product of the men who mentored them and who essentially produced their success.
Feminist scholars of the last three decades, of course, have written texts contesting and criticizing relations between prominent male and female literary figures. McDowell's objective, however, is to prove that these female luminaries should not be cast as victims in these relations: "The aim of this book is...to demonstrate that none of the women artists mentioned here were victims at all, but that they chose their own fates knowingly and without the taint of victimization; that they chose such relationships in order to benefit their art and poetic consciousness." This objective is what makes McDowell's text praiseworthy in the larger scope of feminism: her book is an effort to move away from the culture of victimhood that plagues feminism today. In order to avoid trite notions of female victimization at the hands of men, McDowell attempts, as she explains, "to situate these liaisons at the center of these women's emotional and literary lives, not to detract from their achievements, but to emphasize them, to show how important these relationships were to them, and why."
The structure of Between the Sheets splits nine case studies, or literary relationships, into three sections, delimited by historical chronology as well as the geographic locale in which these relationships primarily took place. Part One, set in the 1910s and1920s, explores the relationships of Katherine Mansfield and John Middleton Murray, H.D. and Ezra Pound, and Rebecca West and H.G. Wells. Part Two, the "Paris Set" of the 1920s and 1930s, considers the relationships of Jean Rhys and Ford Maddox Ford, Anaïs Nin and Henry Miller, and Simone de Beauvoir and Jean-Paul Satre—the last relationship of which, for me as a former student of philosophy, made me giddy with tales of Beauvoir and Satre pimping out their students to each other (oh, how fantastically perverse!). The third and final section is devoted to transatlantic relationships from the 1930s-1950s: Martha Gelhorn and Ernest Hemingway, Elizabeth Smart and George Barker, and Sylvia Plath and Ted Hughes.
McDowell culls her information from diaries, letters, and journals, which, in all, makes for a thorough but accessible reading. The information being imparted is not revelatory, but the subtle, argumentative slant of the text is laudable for its elevation of women commonly stereotyped as victims who lived passive lives in relation to the men they loved. Anyone interested in some crisp, literary gossip should take a look at this book.