Black Lily Perfume Oil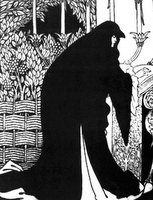 Holding the tiny brown bottle in my hand, I felt like an adulteress. After all, I had remained faithful to my own "signature fragrance" for the past five years. As I twisted the cap on Black Phoenix Alchemy Lab's "Black Lily" perfume oil, I could still smell the hint of my own perfume on my skin. How could this nondescript bottle compare to the perfume I had already grown to love?
Almost two weeks have passed since I tried the "Black Lily" perfume oil. Although I have not broken off my relationship with my signature fragrance, I am no longer a one-perfume woman. In fact, more frequently than I care to admit, I have found myself slinking to my medicine cabinet in search of my new fragrance.
I have, you see, something of an unresolved love affair with "Black Lily." After all, temptation was inevitable since this fragrance is one of Black Phoenix Alchemy Lab's Rappaccini's Garden line. Every time I hold the little brown bottle in my hand, I can't resist the fragrance's edge of sweetness and irresistible undercurrent of danger.