Black Velvet Magazine (Issue #50)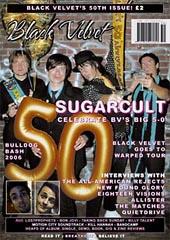 Black Velvet(http://www.blackvelvetmagazine.com) is officially a fanzine based out of the UK. It's aimed at young hipsters who have opinions about music. I'm certain that I'm not in that group, but I can appreciate the amount of work and dedication that has gone into creating this magazine. Shari, Black Velvet's editor, does most of the work herself and keeps only a small staff of contributors. Everyone working on the magazine is highly passionate about rock music and the bands that are covered in every issue.
I can also appreciate that Shari is blazing a trail that few other women have. By stereotype, being overzealous about rock bands has been typically a male-dominated industry, but she has definitely created a piece of media that has the ability to rival any other fanzine out there. Professionally printed on glossy paper, the 50th issue brings about Black Velvet's first ever full-color spread. The reviews are poignant, the articles are informative and the layout makes the 'zine easy to read. At only $7 through the website, it's well worth the money for anyone who has a penchant for the popular rock music scene.