Blame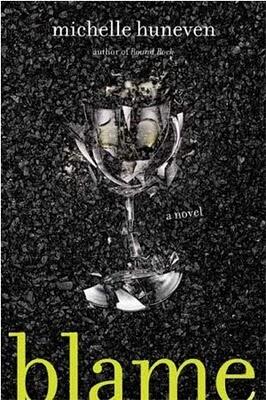 Michelle Huneven's Blame spans twenty years in fewer than 300 pages but avoids any frantic pacing or strange leaps. Patsy MacLemoore, the main character, is an alcoholic. A young academic, her scholarly accomplishments initially help to balance negative effects of her alcoholism. Huneven's protagonist has a professorship at a at a small liberal arts college. She had a small but sunny house, friends, family nearby, and was pretty, with long blonde hair, long tanned legs and a dazzling smile. At the county jail, the regular inmates call her "Professor" when she wakes up there after having had too much to drink.
When Patsy wakes up in jail—again—she assumes she'd simply had too much to drink; perhaps she'd driven even though her license had been revoked. She tries joking with the officers, the lawyers. She'd blacked out—again—and doesn't know what she'd done to land in jail. "What is it?" she asks, "I really don't remember. Did I kill someone?" She's joking. Then they read her the police report. A mother and daughter, killed in her driveway, hit by a car.
Patsy pleads guilty and goes to prison. Huneven's depiction of prison is sobering and not heavy-handed. She doesn't romanticize Patsy's prison experience, but neither does she withhold from her readers the moments of grace Patsy does experience there. In prison, Patsy sobers up, leaves prison and returns to town.
Patsy loses many friends, but miraculously (isn't friendship and forgiveness always a miracle?), she is not left completely alone. Her ex-boyfriend visits her every week, becoming one of her most faithful and loyal friends. Her parents are gentle with her. Her brother looks out for her. When she leaves prison, she comes home to an apartment lovingly appointed by her best friend and his boyfriend. She meets an older man in AA and remains sober, gets married. Many years later, Patsy learns what happened when she blacked out in the car that night. That new information changes Patsy's new and hard-won self-perception.
I didn't want this book to end. The story isn't incomplete, not by any means. Huneven's feel for just the right bit of detail was wonderfully effective. I felt attached to these characters, their lives and stories, their back-stories, and their private moments very early on and simply wanted even more by the time the book ended. I loved them. I loved the depth with which Huneven wrote them. I am a sucker for stories depicting people who are deeply flawed but who are nevertheless very much loved. This was one of those stories and I hope to find another one like it again.