The Blessing Next to the Wound: A Story of Art, Activism, and Transformation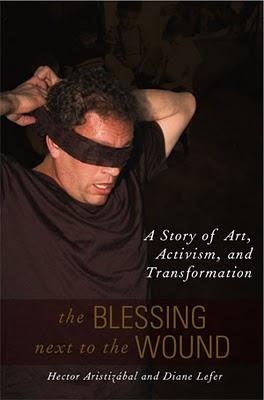 As a survivor of government sanctioned torture in Colombia, Hector Aristizabal was left with unsettled anger and fear. His wariness towards both his country and his future there worsens when one of his brothers is murdered by paramilitary soldiers. Aristizabal is eventually able to cast aside his bitterness, and find ways to aid others in their struggles by holding workshops for prisoners and victims of violence in the United States. While the dust jacket of The Blessing Next to the Wound gives the impression that it is a memoir of surviving both torture and a corrupt government, the book's focus is actually splintered. It tells many stories connected through Aristzabal's drive to aid others set both before and after his imprisonment and torture for alleged political ties.
The Blessing Next to the Wound begins with Aristizabal aiding his pregnant girlfriend and other young women seeking an illegal abortion. While Aristizabal boastfully lists the many women he seduced throughout his life, he also offers sympathy for the plight women face in a country with limited birth control resources. This later motivates him to undergo a vasectomy following the birth of his own two children, admitting that while he may not always be faithful to his wife, he will never impregnate another woman. While Aristizabal shows himself to grow, his treatment of women is never shown to be fully resolved. As a feminist, I fruitlessly waited for this to be given some resolution during the course of the book.
Each chapter tells a different vignette from Aristizabal's rich life experience. While this approach causes the book to lack a clear focus, and often a sense of chronology, the bits and pieces he shares from his life are nonetheless captivating and often moving. During the course of the memoir Aristizabal chronicles the hardships faced by his homosexual brother who eventually dies of AIDS, the effect of the cocaine industry on Colombia, the many human rights violations that exist in the United States, and how his theater-based therapy work aids others in places of crisis in their lives. Now and then Aristizabal will make a connection between the chapter's experience and his time spent imprisoned and tortured; these connections serve to lessen the fragmented feel of the work.
Despite its lack of focus, The Blessing Next to the Wound offers a moving portrayal of finding inspiration and direction after surviving torture.