Bound to Please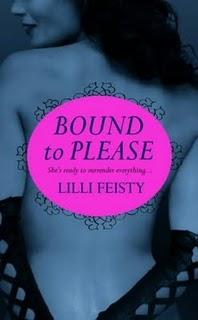 I haven't read a romance novel in years, and the only BDSM material I've ever read was Anne Rice's Beauty trilogy (which she wrote under the name A. N. Roquelaure)—and even then, I only browsed through the first book. One would think that from the title of Lilli Feisty's first novel—Bound to Please—the reader would know what to expect. This reader, however, did not.
Bound to Please is a supercharged, erotic, (mild) BDSM book. The back cover even warns, "Read it only if you can handle the heat." Think you can?
The book centers on Ruby Scott, an event planner in San Francisco who is so tightly wound that someone, preferably a man in her perspective, needs to seriously loosen her strings! Ruby is a raven-haired beauty whose retro style and self-limitations are more reminiscent of June Cleaver than Morticia Adams, while Meg, her sidekick and business partner, is a sassy punk with a passion for vintage clothing. Both women end up delving into a world of bondage, domination, and submission.
Ruby has dabbled with some kinky sex with an ex-boyfriend but has never been able to fully give herself or submit, until she meets "almost famous" rock musician Mark St. Crow. He's young, gorgeous, and has an urgent need to dominate—and Ruby is just the woman to satisfy his desire.
Reading through the first twenty pages or so, I had to stifle back giggles at some of the writing and the actions of the characters. Shudder, quiver, and tremble are some of the words used to describe Ruby's reactions to Mark's touches, and the reader knows immediately that he's made a deep connection with her when Ruby starts eating ice cream straight from the carton—something she's never done before! This girl is hooked!
The writing isn't Tolstoy or Austen, but it's not supposed to be, and, I admit, the story took me away. I found myself wondering: How far will Ruby go to please Mark? Will she allow herself to be dominated? Will Meg use sex to solve her marriage woes? Will Mark stay in San Francisco? And will Ruby eventually lose her June Cleaver attitudes toward relationships and her own sexuality?
Bound to Please is not a BDSM 101 book, but I did find out what a top, bottom and switch are and where to shop if I'm ever in need of a, um, paddle or whip. I guess it's true that you learn something new every day!