Boy Crazy: Coming Out Erotica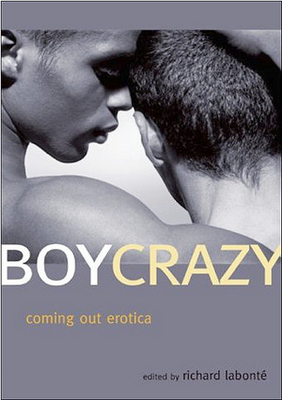 Boy Crazy is a series of firsts: first coming out of the closet experiences, first feelings of sexual awakening, first realizations of "otherness," first times falling in love... the list goes on and on. In a series of otherwise unrelated stories, multiple authors tell the tales of coming out and first encounters, all from the perspective of boys, of young homosexuals' way of perceiving the world. It's not complicated, as Richard Labonté writes in his introduction, "Those are the stories of those boys, and the boys who are crazy about them."
There are seventeen different stories in Boy Crazy, told by seventeen different voices. The title can be a bit misleading, as it can be assumed that all of the stories are of sexual nature, but that is not the case. Some of the tales are about the innocent discovery of love, the moment in which the boy realizes he loves other boys—and they love him. Other tales are about the excitement brought on by the first sexual encounters, at times told in fun detail. Regardless, the stories deal with reciprocated feelings and for the most part are entertaining to read.
A very interesting element to Boy Crazy is how each author brings a different portrayal to life. Depending on the tone and mood, the story can be comical, or provocative or at times even a bit darker in mood or outlook. The writing styles vary greatly, in one story we are in the world of a young boy and his pearl clutching grandmother and in the next story a college freshman sits around a coffee shop checking his laptop and texting his roommate that he won't be home. The multiplicity of authors brings a fun perspective, but it does not mean that there won't be similarities.
For the most part, the stories either revolve around or have elements based on the idea of a young unpopular boy who lusts after his sister's boyfriend and eventually has his first sexual encounter with him. At times it can be repetitive, varying only in location. After all this is a compilation of stories about the same subject. However, there are other stories, such as "Sundelin," in which a new type of awakening is discovered and it has nothing to do with a sibling, or with anything in general, but only leaves the reader wanting more (like the main character).
Boy Crazy is a fun book to read. At times it's provocative, and it can be sweet. It can be a light read, but also has enough good writing to be taken seriously.