This is Burlesque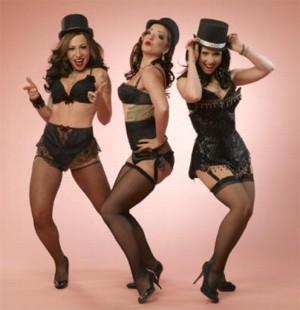 To go to a burlesque show is to indulge in somewhat of a lost form of entertainment. It's as much about the experience as it is about the actual show. Sure, a line of beautiful women can strut around on stage in their skivvies, but if the nostalgia factor isn't there, then it's just another striptease. Thankfully, Corio's This is Burlesque showcase has that Golden Era feel down to a science.
The adorable downtown Manhattan venue is committed to kitsch, with 1950s-style adverts plastering the walls and bluesy renditions of contemporary hits pumping through the speakers. Plus, it delivers what is, in my opinion, the staple of any good burlesque show: scenes from classic showgirl movies. While anxiously awaiting showtime, I listened to a dead ringer for Sinatra croon Beyoncé's "Naughty Girl" while enjoying scenes from Ball of Fire projected on the back wall of the stage.
The highlight of the show, oddly enough, is a large middle-aged man in a colorful suit and Buddy Holly glasses by the name of Murray Hill. As emcee for the evening, Hill is a throwback to Andy Kaufman's irreverent alter ego Tony Clifton, with his fabulously obnoxious heckling of both the audience and the performers. Unlike Clifton, though, Hill manages to remain terribly likeable, mainly because there's no one he makes fun of more than himself. 
Burlesque stars Angie and Helen Pontani, Peekaboo Pointe, and Melody Sweets provide a poised but still titillating counterpoint to Hill's antics. Sweets is particularly infectious as the troupe's sole singer-striptease artist. From her flawlessly classic vocals to her polished, stylized movements, Sweets is a performer in every sense of the word. Her coy, sassy numbers are only matched by Peekaboo Pointe's hilariously over-the-top second act strip. 
Between the uber-raunchy Hill and the excitable young crowd, This is Burlesque is perfect for bachelor and bachelorette parties. (On the night that my friend and I attended, we had a group of ladies next to us who were treated like royalty!) Beware of the menu, though; it's prix fixe and the price is pretty steep, but the lovely servers, with their old school hospitality, enhance the experience and make it worth the price.