Burning of the Three Fires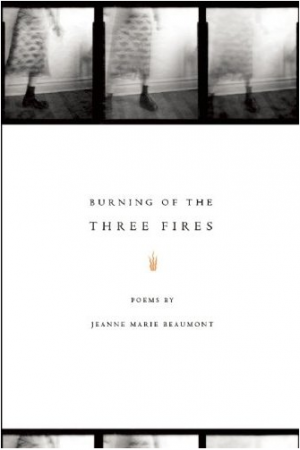 Burning of the Three Fires marks the third collection of poems from Jeanne Marie Beaumont. Beaumont, who won a National Poetry Series award for her first book, experiments with form and examines the female condition in her latest collection. The result is a vibrant mix of poems that keep readers turning the pages and analyzing the words before them.
"Girl on a Scale," though not atypical in form, vividly depicts an eating disorder. Beaumont utilizes imagery and diction seamlessly to convey the "ungrowing" of one who is suffering from body image and eating issues. As the speaker enters a dream-like world, filled with icicles that masticate air and saplings, she imagines her daughter standing at the edge of her bed in the form of a seabird. "But birds eat constantly," she thinks, realizing it can't be the same girl who lets "food fall away/from her mouth." Some of the most striking lines that offer a realistic image of eating disorders are: "Not a gain again./Ungrown so thin she slipped/between the bars/and hunkered/inside her cage." As the poem concludes, the speaker wakes up and sees "it was she in the bed,/toward her/the IV dripped dripped/like an early thaw." It makes for a powerful ending to such a haunting poem.
The title poem, "Burning of the Three Fires," gives readers the opportunity to do more of their own interpreting. While "Rite (to Combat a Bad Mood)" offers eight mostly nonsensical tips and observations that are uplifting and really do combat a sour mood.
"Channeling Sylvia: 8-Ball (Interrogation)" is a verbatim transcript from a Magic 8-Ball conversation Beaumont had with Sylvia Plath. It is humorous and deviates from the typical poem in its question-and-answer structure.
Burning of the Three Fires shows that Beaumont isn't afraid to exercise her craft by experimenting with new forms of poetry. Her work offers a refreshing blend of phrases and images that intrigue and inspire.