A Case of Olive Jade Filigree Earrings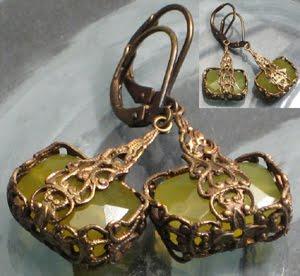 When I was in middle school, I became obsessed with all things macabre. From R.L. Stine to Stephen King to nonfiction about Jack the Ripper, I loved stories about mind-body possession and carnivorous blobs in a lake and radio reports of a psycho killer gone missing heard by two necking teenagers on lover's lane. I loved the romantic allure of Anne Rice's concocted world of witches and vampires who wept for humanity and George Romero's politically brilliant yet grotesque undead. To me, there's something warm and enveloping about the dark.
The A Case of Olive Jade Filigree Earrings mentally transport me to the time I sat in front of the tomb of voodoo priestess Marie Laveau in New Orleans studying the repeated trio of black X's, cigarettes, coins, and candy left on her final resting place. (For those of you who haven't been there, imagine something out of Kate Hudson's The Skeleton Key.) Created by Tracy Ellison of Trace Ellements, the earrings have a single rectangular jade stone encased in brass filigree envelopes that attach to the ear with a French lever wire. I imagine Ms. Laveau might have had a pair like these on when she met her demise.
Old fashion in style, this affordable pair of earrings ($28) would well accessorize most clothing that has a modern gothic sensibility. I envision an a-line crushed velvet dress in hunter green. I see the wearer's pale white throat contrasted with the single, thin strip of a black velvet ribbon choker. Since the earrings have an element of versatility, the outfit could be completed with either stompy black boots (a la Hot Topic) or a cute pair of Mary Janes.
Now that Twilight and True Blood are all the rage, I think girls who aren't afraid of the darkness will be happy to know they can get their needs met by Trace Ellements.