Chesapeake Necklace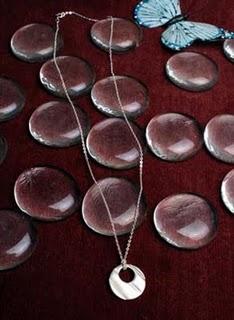 Moonrise Jewelry had me at hello. The woman-owned and operated, Virginia-based, eco-friendly company doesn't simply produce amazing jewelry; they "design, manufacture, and sell high-quality handmade jewelry while adhering to values that contribute to a stronger and healthier global community." Are you in love yet? Because it gets better.
Meredith Restein runs her business using raw and recycled materials gained from Fair Trade and ethical vendors for whom community economic development is a priority, and whose employees work in safe and healthy conditions and are provided with fair wages and labor standards. She insists on supply chain transparency to ensure the legality of all international transactions, and to maintain an ethical and sustainable business practice. When possible, Moonrise keeps production local to stimulate the rural Virginia economy, as well. And if that weren't enough, the company courts philanthropic partnerships to whom they give monetary and in-kind donations. Head over heals now, aren't you?
Delivered in a royal purple box with a metallic pink Moonrise Jewelry logo on the lid that was wrapped with a single, sage green ribbon tied in a bow, the initial presentation of the Chesapeake Necklace was stellar. The round pendant cast in 100% recycled silver is hand carved in a way that resembles ocean waves, which gives the delicate piece a sense of movement. The sterling silver chain with a ring clasp is available in multiple lengths—16", 18", or 20"—and the pendent is attached in an unconventional fashion by looping the chain through the intentionally off-center hole in the pendant. While the price tag ($78) might be off-putting, go re-read those first two paragraphs and remember that cheap usually equals exploitative.
The Chesapeake Necklace has become my FN2 (favorite necklace for now). It's simple enough to be casual, elegant, or sexy—not that the three are mutually exclusive. The Chesapeake also has mass appeal, as both my mom, my sister, and my best friend were all keen to relieve me of the piece, and weren't shy about making this known. Good thing they're all on the other side of the world now, or I'd have to be making frequent paranoid checks of my jewelry box, especially since this necklace has since sold out! No worries, though, there are plenty more to choose from.