Chicago: The Musical (4/1/2009)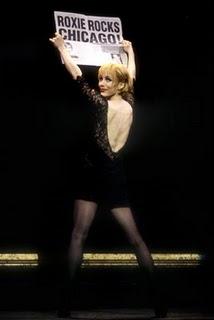 A few years ago, I took my two twenty-something nieces to see the Oscar-winning movie Chicago and was aghast at the plot. I thought, to borrow their words, "OMG!" Surely, my nieces would tell my family their "radical" aunt took them to see a movie where women imprisoned for killing men belt out, "He had it coming!" while doing the fiery Cell Block Tango. But as the story unfolded, it became clear to me that this movie was not about gender as much as it was about corruption and greed. Relieved, I sat back and enjoyed the Hollywood production.
Being a fan of the movie and soundtrack, I was delighted to review the musical when it came to Washington, DC. Now, DC is known for its history, not its theatre district, so it should come as no surprise that Chicago is only running for a limited engagement of two weeks at National Theatre, America's oldest playhouse (operating since 1835). Congress gets a longer vacation time that that.
But onto another city: Chicago. It's the 1920s. It's the Jazz Age. The time for razzle-dazzle decadence and, some would say, moral decline. Roxy Hart is imprisoned for killing the lover who tried to walk out on her. Her naive husband refuses to take the rap once he learns the guy sold them their furniture… at a discount.
Chicago is actually based on a true story about two women Beulah Annan (Roxie) and Belva Gaertner (Velma), who were both charged with murder in 1924. Annan, at just 23 years old, was accused of killing an intruder in April of 1924. Desperate to get off, she feigned pregnancy and received sympathy from the media, the public, and apparently, the jury. She was found innocent. Gaertner was accused of shooting her husband in May of 1924 and also managed to avoid conviction. The two slick lawyers that worked these cases form the character Billy Flynn.
The stories of jazz age women being hauled off to jail for murder provided sensational headlines. One Chicago Tribune reporter (Mary Sunshine) turned her stories into a comedy called Chicago. Its timeless theme would lend itself to the big screen three times: in 1928, in 1942 with Ginger Rogers, and in 2002 with Renee Zellweger.
The theatre version, which began in 1996, has little need for props. It was the orchestra that sat on the stage, interacting with the cast at times in hysterical vaudevillian manner (Said to the conductor: "Is that all you do, just stand there and wriggle that stick? You know, if you played an instrument, they'd give you a chair.") Indeed, the stage as well as the costumes were minimal in keeping with history. The performers took precedence and created selfless or selfish, slick or naive, sweet or deceptive (or both) characters right before your eyes.
For sure, John O'Hurley's performance as Billy Flynn exceeded the audience's expectations of the man that plays Seinfeld's Mr. Peterman. His delivery and timing were impeccable. Also providing exceptional performances were Charlotte d'Amboise as Roxie and Terra C. MacLeod as Velma. Both portrayed women seeking not only freedom, but also fame upon their release—as if freedom were not enough! And, Carol Woods gives a stellar performance in her role as Matron "Mama" Morton, one of the many characters exploiting the "justice" system.
Justice may not have been delivered in Chicago-the-city but a wonderful and often outrageous portrayal of history is bestowed to audiences in Chicago-the-performance. The cast received a much-deserved standing ovation. "They had it coming," after all.