Come for a Cause Kit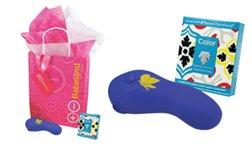 From the moment I laid eyes on the Come for a Cause Kit, it was love, or at the very least lust, at first sight. An adorable vibrator, a three-pack of latex protection, and AAA batteries all in one shiny little bag made my heart flutter—but not based on the content alone. The Come for a Cause Kit benefits not one, but two organizations. The condoms benefit Planned Parenthood, while the Papillon vibe proceeds go to Living Beyond Breast Cancer. Charity has never felt so good. 
On the safer sex front, never before have I seen such a successful attempt at a stylish repackaging of condoms as in the case of Proper Attire Color. Not only was I unembarrassed to tote these rubbers around, I was almost hoping someone would accidentally discover them in my purse. The modern and bright package design is female-friendly without the "pinkification" so common in today's marketing. Gorgeous is not something most people would describe a condom wrapper as, but Proper Attire is quickly broaching on this territory.
The Papillon vibrator packs a surprisingly strong punch for a toy of its size. Lightweight and discreet, the purple vibe is great for first-timers and experienced users alike. The two-speed vibrator and is waterproof and proved itself durable after many trial runs. While the Papillon is perfect as part of the Come for a Cause kit, purchasing it with intentions of it being one's main source of battery-powered pleasure may not be the wisest decision, though it deserves a position in one's artillery of toys.