Contents of a Mermaid's Purse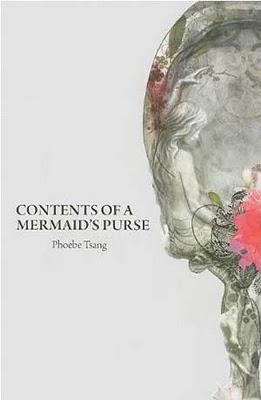 Phoebe Tsang's Contents of a Mermaid's Purse is somewhat like a real purse a modern woman might have: familiar and, at the same time, exotic—and so is what it holds. Dumping the purse's contents onto the table to sift through proves to be an exercise in strange beauty—an alluring siren's call fulfilled. From the seemingly mundane poems like "My Mother's Bread"—in which I'm intrigued to keep reading after learning that her mother's bread is as hard as soapstone—to the fantastic, watery world that comprises almost all of the second section, Contents of a Mermaid's Purse does not disappoint.
Tsang's work often deals with an undefined "you", who I assume to be the speaker's lover, though it's unclear and may change between poems. Alluding to an other in her prose poem "Fox Fire," she writes, "I rise early to spin stories by the kitchen window until the heartbeat murmur of footsteps begins to fall like rain at my back..."
I was talking with a friend about the collection and she asked me what I thought of mermaids in general. We discovered that she and I have conflicting ideas of what a mermaid actually is and what it represents, and my idea of one was/is more sinister than hers. So, she asked, in the poem "In Love with a Mermaid" who speaks these lines: "the spell uncast on my lips / so you wouldn't be netted"—the mermaid or the lover? Such are the questions and intrigue winding itself through Tsang's poetry.
As someone who likes rich, visual poetry, I really enjoyed reading Contents of a Mermaid's Purse and recommend it to those who are fond of such a bold foray into daring writing. Expect unusual metaphors and dangerous beauty, and expect to have lines haunt you long after the last page is turned. I especially liked the previously mentioned poems "My Mother's Bread" and "Fox Fire" as well as "Black Cat," "The Fox and the Lady," "Blood Roses," and "Lady Luck."