Darling Dear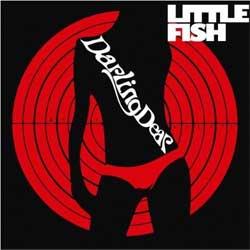 At one point in the chaos of alley-crawling and narrow escapes that is the "Darling Dear" video, Little Fish frontwoman Juju beats up a guitar-wielding hipster boy, steals his guitar and straps it on before she launches in a furious bout of The Rocking. It is precisely this raw frenetic energy that attracted the attention of Custard Records, the label launched by singer/songwriter/producer Linda Perry (4 Non Blondes). Baffled & Beat, Little Fish's full-length album from Custard produced by Perry, is scheduled for an early 2010 release. In the meantime, we have Darling Dear, a three-song maxi-single guaranteed to rock off the socks of every music fan lucky enough to listen.
Winners of the "Guitar Hero Best Rock Act" at the 2008 UK Indy Music Awards and the subject of fawning adoration from BBC Radio Oxford, Little Fish released Darling Dear in mid-October. In short order the group has gone on to share the stage with the likes of Juliette Lewis and Alice in Chains. They're a rare breed of band—self-aware without being self-important. They know full well that they're making stellar wall-shaking rock n' roll, but they're not pretentious about it.
Self-taught guitarist Juju is a singer/songwriter whose warm raspy voice has been compared to Patti Smith and PJ Harvey. To me, there are also hints of Johnette Napolitano, and yes, even a bit of Linda Perry. Drummer Nez is right there keeping up every step of the way, which is a mighty undertaking, especially given the rapidly escalating rhythm of "Darling Dear." It starts out slow then builds to a glorious pulsating frenzy. Here, Juju's voice struts and swaggers like one of a seasoned rock star; she looses pitch perfect screams with a precision that Janis Joplin would envy.
As a second track, "Sweat and Shiver" is cleaner-sounding, almost poppy in comparison to the song that preceded it. Thankfully, though, it's not pristine. Not by a long shot. Harmonies beautify scuzzy febrile lyrics like "My eyes are glazed/I'm pretendin' to sleep" and "Hands and knees/crawlin' on the floor/Cigarette burnin' on a cockroach floor." Little Fish is following a classic pop/rock music formula with this song—stuffing grimy unpleasant imagery in the sweet swirling center of harmony and repetition.
Of the three tracks, "Whiplash" sounds the most up-to-the-minute British post-punk. At two minutes and fifty-one seconds, it's the shortest of the three tracks, and ends abruptly. It has all the earmarks of a set-ender. It's the short upbeat track you hope will be played at the close of a brilliant show. It's a song that gets a crowd dancing before BAM! Throw down a guitar grown heavy on exhausted shoulders, fling away drumsticks and walk off panting backstage for a pull from a bottled beer before stumbling back out for an encore.
And believe you me, after everything Little Fish puts in their music, you'll be screaming yourself hoarse for an encore.