The Daughters of Juarez: A True Story of Serial Murder South of the Border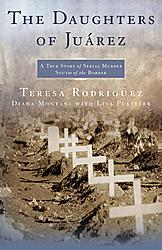 I have always assumed that every feminist knows about the murders in Juarez, Mexico. I have been obsessed with the murders and available news reports (or lack there of) for the past couple of years. So when I saw that the first non-fiction book to be published about the Juarez femicide was coming out, I was incredibly excited to see that these events would finally be discussed in an accessible format.
As I started reading the book, I couldn't put it down. I carried it with me everywhere, as these women's stories filled my head and my heart. The first couple of chapters were incredibly hard to get through. In fact, I had to take frequent crying breaks in order to read the first fifty pages. So when I started obsessively talking about this book to everyone I know, I was disappointed and dismayed to encounter the common response of "What murders in Juarez?"
And this is why The Daughters of Juarez is the most necessary and important book to come out this spring. For the past 12 years, over 400 women have gone missing in the desert of Juarez. From what is left of their desiccated bodies, medical examiners have found evidence of brutal rapes and torture of these young women. In the beginning of the crimes, most of the victims were young, poor maquiladora workers abducted on their way to or from work. As the crimes progressed and police failed to find the killer(s), more women were (and are) abducted and their bones have turned up in the desert.
This book is important for several reasons. First, these women's stories must be told in order for them to be remembered. The pervasive misogyny of these femicides must be told, because these crimes are happening in every part of the world, just under a different guise. Second, it is painfully relevant how the media has failed to pick up on this story. 400 women raped and brutally murdered, and only a few radical media sources have written a scarce number of reports about them. How can that be? What is so wrong with our society that no one cares if 400 women in one city are brutally raped and killed in less than a decade?
Finally, if these stories are not going to be covered in the mainstream media, then the mere existence of this book is amazing. The women of Juarez's stories are now accessible to anyone who happens to peruse the politics or true crime section of any bookstore. Rodriguez and Montané's combined account of this femicide is emotionally hard to get through, but their relentless dedication to bring justice to the murdered women and their families is truly inspiring, and is an amazing call to action.