Better Off Alone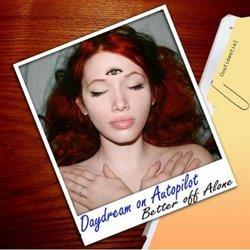 Fans like to write goofy stuff like "I love your music!! It's EPIC. It makes me smiley!!!" on Daydream on Autopilot's MySpace page, and it's not hard to understand why. Often compared to No Doubt and The Cranberries, Daydream on Autopilot is a likeable band with a lively rock alt vibe. Their statuesque red-haired lead singer Emii has nicely honed vocal skills and a flashy hippie chick rock star appearance that likely draws a lot of attention from alt rock fans.
The title track "Better Off Alone" is catchy, energetic, and accessible and it's the most memorable track on what is essentially a commercially-promising album. If you're looking for weird, cryptic, edgy, drug-induced, visionary, or unusually poetic lyrics you won't find them here. Emii wrote most of the lyrics on this album, which probably explains why they fit her personal style and voice so well.
With only five short sweet tracks, Better Off Alone is well worth a listen if you aren't seeking to wade into lyrically deep waters and are looking for pure entertainment. Entertain is what this band does best and their lyrics and music are well suited to memorable live performances.
It's also worth noting that Daydream on Autopilot is committed to promoting a strong anti-drug message and they have all been involved at events promoting positive lifestyle habits for teens. One of the organizations that they are involved with is Students Against Destructive Decisions (SADD). They encourage your to email them for more information about their anti-substance abuse involvement.
Healthy, wholesome, good looking, and possessing a serious commercial sensibility and an energetic aura, Daydream on Autopilot could give the Jonas Brothers a run for the money.