Decibelle (9/23 - 9/27/2008)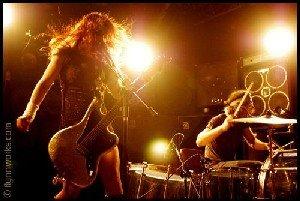 To quickly describe my feelings regarding Decibelle (formerly known as Estrojam), allow me to offer this scenario. Imagine a child describing FAO Schwartz, moments after she's visited the toy store for the first time: "There's so much to do! There's so much to see! I danced and laughed and cried! I met great people! It was the most fun I've had all summer!"
I've been sitting in my laptop's glare for days, wondering how to articulate these gushing sentiments more eloquently before I finally realized that the festival doesn't deserve a dry critique. It needs a personal recount that comes straight from my fiery, fuchsia, feminist heart.
For those unfamiliar, Decibelle is a week-long event in which women demonstrate their art, music, and share skills through workshopping. The festival occurs every year in Chicago. Proceeds from this year's festival benefited Young Women's Empowerment Project and FAIR Fund.
Part of this year's festival was the long-anticipated documentary The Gits. Of all of the equally wonderful things I witnessed at Decibelle, I must admit that this movie completely floored me. The film perfectly captured the punk band's emotional and musical bonds, as well as their ties to the community and Seattle's music scene. The film's focus was on the talented life and tragic death of frontwoman Mia Zapata. The Gits took many years to make, and the ending was changed after the police finally caught Zapata's killer.
I first read about Zapata's life in Inga Muscio's book Cunt: A Declaration of Independence. I vividly remember being 15 years old, learning about sexual assault and feminism. I read about how strong and creative Zapata was, and how her violent death inspired communities to begin self-defense programs (such as Home Alive). Knowing this, I had an idea of what I was in for before I viewed the film.
"I'm gonna try not to cry," I laughed nervously to a friend. It was impossible to stay dry, though. The documentary made me feel like I had known Zapata personally. Afterwards, I felt as though I'd partied, played music, and mourned with her and her friends. I swore I could smell the cigarette smoke of the punk venues and taste the beer from the band's rehearsals.
After viewing this film, learning from Decibelle's music workshops, and listening to so many female musicians, I feel that my creativity has been revived. An artistic version of CPR, if you will. I now feel more confident to pursue my own artistic endeavors. I think that is what Decibelle is really all about: not only can women do anything they set their mind to, but we can also do it with both style and purpose.