Die Young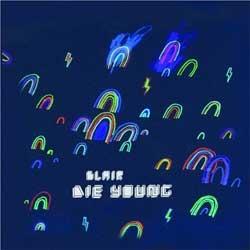 Blair Gimma bounces about between art pop and insightful complexity with her first full-length venture, Die Young, juxtaposing the indelible angst of indie folk rock (with help from her daydreamy vocals) with stark lyrical imagery. Die Young was produced by Keith Ferguson, and uses all New Orleans-based musicians as a sort of tribute to where Blair spent her adolescence. Although the deep-rooted sounds of this genre are not entirely reflected in Die Young, the personal nature of the record touches on its sentimentality, as if most of the songs were acoustically derived from adversity and recorded in the solitude of Blair's bathroom.
"Rampage" sets the partial tone for the record, filling the landscape with echoed reverb and a little Pavement-inspired noise rock delight. Listening to electric keyboard synths in the opening verse of "Hearts," one can almost picture the rolling credits of a favorite 80s soundtrack in all of its soft new wave splendor. "Hello Halo" features Blair's sprightly vocals, cushioned with classic indie distortion and a pulsing, syncopated beat that's as pleasing as it is fitting, all while Blair recites, "Got a radio in my head…and it tells me what to say"; not to mention Blair's amusing ode to girly glory, as she continues by deadpanning, "Kittens, rainbows!" "Paris, France" is moody and ethereal, blending electro-pop and the warm glow of ambient-pop, lush and hypnotic. "Candy in the Kitchen" works with heavy beats and moves in the same direction, albeit with a bit of a departure from the rest of the record. Gleefully, Blair sings, "I was dancing to Whitney Houston," as you adjust your ears earnestly just to hear what she'll say next.
Die Young is an extension of light summery pop melodies with harsh complex concepts that cut through its airy pop conventionality. Blair's mix of vulnerability and savvy musical chops work in tandem, even though some of the songs could be on different records. Her personal pilgrimage, lasting over a span of five years, is still in its beginning stages, a cunning premonition to her eventual creative evolution in the years to come.