FabricLive 39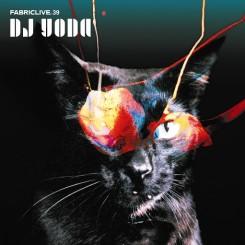 This record is sick. By 'sick' I mean off the charts wicked, all night booty-shaking, dance party-inspiring, screaming while you crash down the rollercoaster of noise sick. Woah.
DJ Yoda, the mastermind behind this collaboration, hails from the UK and focuses on hip-hop turntablism, making a name for himself since the late 1990s with his How to Cut and Paste album series. Joining the ranks of Fabric DJs, he's outdone himself. The Fabriclive series, on a whole, is a stellar mix of internationally celebrated DJs spinning their best collectibles and own work. But despite the number of these albums that line my shelf—well over a dozen as of this writing—DJ Yoda's skills may have surpassed them all. Have you ever heard a remix of "Sexual Healing" played by brass band? Mix in some old Jurassic 5, Salt N Pepa, Bell Biv Devoe, and Run DMC, and you have a serious party on your hands, even if you're all alone in your room while you break it down.
Despite the record's greatness, the first two tracks don't really kick such an incredible album off right, so skip to Skilbadee's "Tika Toc" to throw down from the jump. I've been doing so all month, and even though that means missing a "Blister In The Sun" mix, you'll get right into Ice Cube, Chemical Brothers, and Gang Starr. I'm telling you, this record is gold. Go find a copy. Now.