Do Something!: A Handbook for Young Activists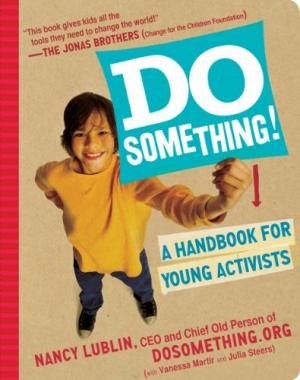 Got kids? Do they have time and energy? Do they care about something? Anything? Then get them Do Something!: A Handbook for Young Activists. Buy it, give it to them, sit back, and feel good about having made a difference in the world. Or at least planting the seed.
Do Something! is a very smart book. Lublin begins by helping kids identify what it is they actually care about by having them take a series of quizzes in the first chapter. As long as your kids can read and count, they can make their way through the book entirely on their own. My eight year old daughter and her ten year old sister actually fought over the book, finally settling their dispute by assigning different colors of ink to determine whose answers were where.
Once your child has identified the area or areas they are most likely to be active in, they are given ways to figure out exactly how big the issues are in their own community, what specific kinds of issues there are, and how best to tackle them. Knowing her audience well, Lublin does this by asking the reader to draw brain maps and take surveys and play games throughout the book. She supplements with ideas of her own and examples of other kids who have worked on some of these very same problems. The book reads more like a journal than anything else, and kids will have fun completing the tasks as they come up with their own strategies to implement.
The chapters walk the reader through identifying their hot-button issues, researching the details, crafting a plan, implementing it, and assessing their results. The book can be used over and over again as a way to organize fundraisers or raise awareness of particular problems ranging from bullying to animal rights to disaster response. Lublin empowers kids to make a difference without being prescriptive. The genius of Do Something! is that it validates each child's personal feelings about what is important and breaks down the steps of acting on those feelings to make activism of any kind perfectly accessible.