Dreams from the Monster Factory: A Tale of Prison, Redemption, and One Woman's Fight to Restore Justice to All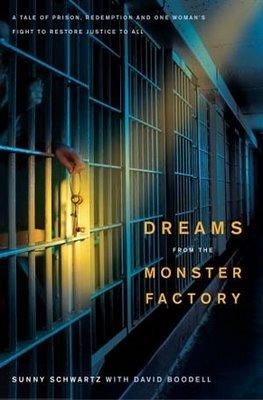 I have been in a fairly low-key battle with my landlord over him not fixing the gutter that fell of the house in a windstorm a month ago. Before that, I was engaged in a fight against the post office for delivering our mail to the apartment below us. I've realized that I have a hair trigger for injustice; though, up until now, my causes have been a bit, shall we say, unimportant. When I read Dreams from the Monster Factory: A Tale of Prison, Redemption, and One Woman's Fight to Restore Justice to All, by Sunny Schwartz with David Boodell, I discovered someone who had found a fight worth fighting.
Schwartz worked in the prison system as a legal intern in San Francisco in the 1980s. A man approached her, asking her to help him; he was in prison for child molestation and confessed that he was planning on doing it again after he was released in two weeks. He wanted her to stop him, but there was no legal way to keep him in custody. After his release, he molested a six-year old girl.
Fed up with the cycle of repeat offenders, Schwartz struggled with what to do. Not only was her professional life full of stress, her family life was tense. She grew up on the south side of Chicago in a Jewish family. She didn't do well in school, and she was continually struggling with finding a place in the world as a woman, a lesbian, a lawyer, a sister, and a daughter.
Despite her struggles growing up, her brother's suicide, a leak in an artery in her brain, and the bureaucracy and stress in the prison system, she begins developing a program called the Resolve to Stop the Violence Project (RSVP). This program was designed to stop the cycle of the "monster factories"—a jail system that kept releasing still violent individuals into the community.
RSVP teaches inmates compassion and holds them truly and emotionally accountable for their actions. The goal is to "reprogram" the inmates into healthier and non-violent additions to society. It also provides a voice to victims; an extraordinarily touching scene in the book is the story of Jean. Jean's daughter, daughter's boyfriend, and grandchild were all murdered in cold blood. She told this story, and the impacts that the event continued to have on her life, to an audience of violent criminals, many of whom were moved to tears.
Dreams from the Monster Factory is a direct and impassioned look at the prison systems and the possibilities for change. Schwartz is also at times brutally honest with herself and her actions. It is an intense look at a part of society many of us tend to overlook. It will put your life into perspective, and give you a new way to look at issues of justice and forgiveness.