Emily's Ghost: A Novel of the Brontë Sisters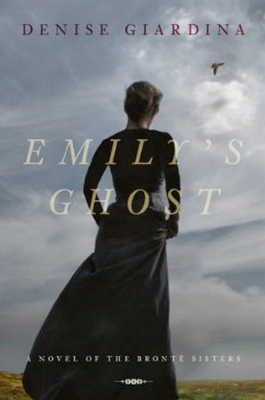 Denise Giardiana creates a gentle and yet realistically harsh world with her newest novel, Emily's Ghost. In the same tradition as Jane Austen, George Elliot, and the Brontë sisters, Giardiana weaves a revealing story of Emily Brontë, author of Wuthering Heights. Emily is portrayed as both intelligent and independent. She refuses to become the woman her peers expect. Her distrust of marriage is only one of the opinions that sets her apart.
Like all well written novels, the description woven into the plot helps bring these characters into a unique light. The central conflict in this story comes in the form of a clergyman named William Weightman, who champions poor mill workers. This doesn't make him entirely popular with a lot of people. But the Brontë sisters love him. Emily finds a voice in William's passion. They enter into a turbulent unconsummated love affair, similar to Emily's novel. Even though tragedy strikes, the love story continues beyond the grave.
The challenge in writing a novel about a historical figure is presenting the facts in story form with a freshness that allows the reader to forget what they already know, or at the least push it to the side. Ms. Giardiana accomplishes this with ease. I found her characters believable and endearing. In her capable hands, Emily and her sisters come to life. I was swept away by the story and only posed one question: why did the book have to come to an end?
Denis Giardiana is the author of several additional novels, one of which won the Boston Book Review Prize. She is an ordained deacon of the Episcopal Church and resides in West Virginia.
I found this novel haunting and beautifully written. I learned more about the Brontë sisters than I could have imagined when beginning the book. I strongly recommend this book as a purchase for your summer reading list.