Everything I'm Cracked Up To Be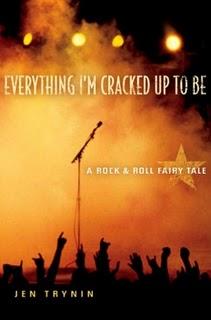 Everything I'm Cracked Up To Be is a rock and roll fairytale. Jen Trynin is trying to find her place in the world of music. Her thirtieth birthday is just around the corner and she wants to be a rock star by then. Sending her tapes out to radio stations and playing in clubs is just the start.
After her songs get recognized on the radio she pulls together a band. With a new bass player and drummer her band is complete. When critics recognize her as the next big thing, many entertainment lawyers and record labels try to sign her. There is even a bidding war.
Trynin picks an entertainment lawyer, Neil Krakow, and a record label, Warner Brothers, and things really begin to heat up. She is sent all across the United States to video shoots, photo shoots and radio interviews. After a while she decides to go on tour, so with her band, manager, soundman, and a van she sets off.
When the tour is over her bass player quits and her drummer gets injured. She fires her drummer and puts together a new band. She even hires a lead guitarist so she can focus on just singing. In the end Trynin realizes that fame isn't all its cracked up to be.
This story is inspiring to those who want to get in the music business. Although the story is from a humorous point of view, it still gives off that "never give up on your dreams" message. Trynin didnt give up on her dreams and neither should you.
The story also grounds your dreams. Fame isn't everything we expect. Most people think you get loads of money and a good life. This book puts that into perspective so you aren't too dissapointed. Everything I'm Cracked Up To Be is a hit.