The Films of Su Friedrich, Vol. 5: The Odds of Recovery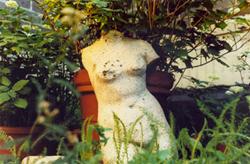 The Odds of Recovery is an autobiographical account of the director's years of health troubles, including several surgeries and a serious hormone problem that had a huge negative impact on her sex life and relationship with her partner. The film is an extremely personal self-portrait that can be uncomfortable to watch at times, but has enough dry humor and levity to keep it fairly balanced. I came into the film expecting it to boldly take on things like the ineffectiveness and incompetence of the health care industry, but found that was far from the case. While not the most audacious, confrontational or thorough documentary, this experimental film commands a certain amount of respect for its sheer vulnerability and purity.
It goes back and forth from subtly revealing hidden-camera footage of doctor's visits to serene but often generic imagery from Friedrich's life, such as close ups of Friedrich doing needlepoint or gardening. There is also some difficult imagery, particularly the photographs in her scrapbook of the thirteen-pound cyst on her spleen, and a close up shot of Friedrich's breast after surgery while she describes the physical and emotional pain she is experiencing. For each of the six surgeries covered in this film, there is a bit of detailed medical information given about the problem and excerpts from self-help books that Friedrich read during her recoveries. All of this takes the viewer effectively into the personal journey of dealing with chronic illnesses. Overall, the film seems to accurately portray the emotions of going through these experiences by making the viewer feel uncomfortable, scared, confused and overwhelmed, with intermittent periods of relative calmness.