First Time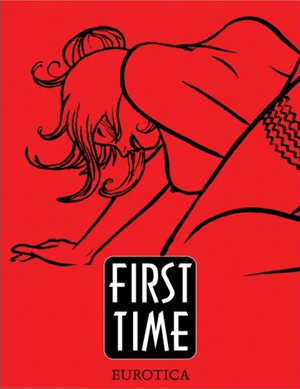 First Time is a collection of illustrated erotic stories written by an author known as Sibylline. Each story is illustrated by one of ten different artists, which include Cyril Pedrosa, Olivier Vatine, Dominique Bertail, and Dave McKean. There is a wide variety of artistic styles, ranging from deco-style pop art to near-photographic realism.
Most of the stories are tied to the title theme of "first times." The collection opens with the title story, in which a young woman tells her lover about her first sexual experience in great detail. "Sex Shop" is the story of a woman's first sex toy purchase (and subsequent enjoyment). "1+1" details a drunken tryst between two women and the heartbreak that follows when one person wants a relationship and the other doesn't. "2+1" chronicles a woman's first threesome. Other plots include a first visit to a sex club ("Club"), a woman penetrating her boyfriend anally with a strap-on dildo ("Sodomy"), and a submissive woman's affair with a married man ("Submission"). 
Smack in the middle of all these sexy tales is "Nobody," a disturbing and intense story told from the point of view of an inanimate sex doll. There's nothing sexy about the doll's owner, who apparently feels free to indulge his sadistic and violent urges because the doll is not a real woman. The doll, however, wonders if the way he treats her is the way he treats all women—or would if he weren't afraid of their reactions. The pictures of the doll and the owner are repellent not only because of the owner's cruelty, but because of the doll's fixed, vacant expression. 
It is hard to guess at the writer's intentions behind this piece, or why this story is included when it is so different from the others in the book. All of the other female characters are willing and enthusiastic participants in the activities, even when engaging in submissive fantasy and role-playing. Nine out of the ten stories in First Time are brief, enjoyable narratives full of graphic sex, that engage both the body and the mind.