First Timer's Kit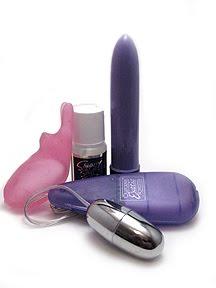 When I read the name of this product set, I laughed. First time? If you're old enough to tap the keyboard, you're probably familiar with repeatedly hitting 'shift' until the screen goes blue. It's like the old joke: "What do you call people who don't masturbate? Liars." Then I paused and reflected that the "first time," without doubt, referred to mechanical enhancement.
My first vibe was a gift from a college pal, a basic bullet model much like Early to Bed's Mary. It didn't strike me as much more interesting than an motorized toothbrush, but years later I was introduced to the Rabbit, and am now a bunny junkie and a dual-action advocate.
Years ago, out of work and in their shop, I threatened to sit on the sidewalk out front with a tin cup and cardboard sign that read: "Unemployed. Needs vibrator." "I'd give a woman money for that," the worker at the counter responded. Early To Bed has superlative customer service standards: they test each item with batteries at time of purchase, and are the only toy store I've encountered with a thirty-day guarantee.
The Starter Kit has a best-selling Silver Bullet vibrator, a small Shane vibe, and a Chubby Bunny Sleeve for textural variety. There's also a little bottle of Slippery Stuff—an unflavored thicker vegan lube that's glycerin-free—and three double-A batteries to boot, all in a pretty blue iridescent storage bag. They recommend the bullet for the clit and the Shane for vaginal stimulation, but I reversed the suggestions to pleasant effect.
Pretend the Shane is a pen and list all the vowels—lower-case, cursive—on your love nub. Then move up to words—Otto, radio, imbroglio—and concoct a vocabulary list that works for you, or start with the alphabet—Arabic and Sanskrit might work better than Latin or Cyrillic—and let me know how far you make it. Recommended for absolute beginners and practiced hands—or other parts.