Freshwater Pearl and Blue Topaz Earrings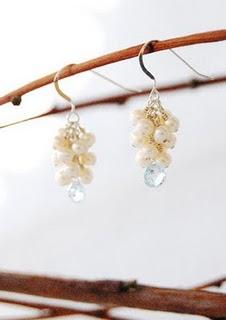 I'm going to my first Indian wedding this December, a celebration I am enormously excited about because of the sheer enormity of this type of event. Indian weddings are multi-day festivities filled with family, friends, fun, and (best of all) food. The wedding I will attend will be a particularly exciting culinary event; it is sure to include a sampler of delicacies from West Bengal, the Punjab, and Burma, a feast that is a reflection of the multiple and overlapping ethnicities of the bride and groom.
Now, I'm not a wedding kind of gal. I didn't have one myself, and I've deftly avoided being in them, but this is an altogether different kind of affair than the cookie cutter wedding industrial complex in the States. Indian weddings are a community experience; families parade in the streets playing music, dancing, singing, and making all kinds of merriment. To attend an event that involves this degree of fanfare, you know a girl's got to be dressed to the nines.
While I haven't yet chosen a sari to wear—an apparent requirement for weddings and another first of mine—I have selected the earrings: Freshwater Pearl and Blue Topaz Earrings by Amy Holton Designs. The choice for ear decoration was an obvious one. Resembling a tiny bunch of grapes, this group of freshwater pearls hangs from a sterling silver hook above one solitary blue topaz briolette whose color is so subtle it could by mistaken for clear. I envision a light blue raw silk sari embroidered with a cream colored thread would match this pair perfectly.
But don't let my pomp and circumstance fool you. The Freshwater Pearl and Blue Topaz Earrings aren't too fancy for the every day. It's just that my taste is a little non-traditional, and pearls feel a bit more elegant than my own drab daily attire permits. If you favor a classical vibe, the Freshwater Pearl and Blue Topaz Earrings will add a bit of subdued sparkle to your day-to-day ensemble. For me, I'll keep them around for the more celebratory occasions.