Galaxy is Out of This World!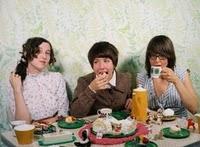 Galaxy is a trio from Toronto, a land that seems to be catapulting all its potential stars across the upstate New York touring void and smack dab into our city. Emma McKenna, Maya Postepski and Katie Stelmanis bang out the brooding, plangent guitar rhythms and alternately pretty and snarling vocals of a young Sleater-Kinney, and in the painful absence of that band, S-K fans may be eager to turn to the raw rhythms of another female band with similar talent and political conviction. Galaxy is almost there, with its penchant for dirty, wailing rock that seems to start where "The Woods" would have decrescendoed. Their newest, "Go On," is a folk song of sustained, layered waterfall vocals recorded in the wilderness, just as "The Woods" was. While upstate New York elicited a startlingly different version of classic rock from Sleater-Kinney, a cottage in the woods two hours from Toronto seems to have drawn an intense folk song from Galaxy, an if-they-must-be-categorized punk rock band.
"When we first started being a band, we were so obsessed with everyone taking us seriously, so we rocked hard," said Stelmanis. "We wanted to be taken seriously as guitar players, so we had all these riffs. It was too complicated and didn't flow that well. Now we don't have to rock out so hard or show off our riffs all the time. We're just writing songs to be good songs and it's got a more steady energy."
But folk isn't the future or indicative of their current style preference, says Stelmanis. And there are more often moments when the high-strung simplicity of Galaxy's recent guitarwork and vocals borders on emo, a word and genre that I mostly eschew but find to be youthfully intense and done right in Galaxy's songs such as "Bolero," which wails and laments its way across a depressed desert of sound that has been seemingly compressed to the size of a can, ready to burst but unwilling to quite yet do so.
The lo-fi Myspace recordings fail to convey the live performances of these songs, many of which I serendipitously experienced when I stumbled into Toronto bar Sneaky Dee's upon the recommendation of Toronto's version of the Village Voice. Expecting a pretty rousing performance by the D'Urbervilles and their charismatic lead singer, I thought I'd get a fairly decent opening band and nothing more. But there is nothing in the musical world as exciting as witnessing a band that's still developing, but holds great promise, during a time when mistakes are in plainer view. Their public image is still a bit nerve-wracked, and raw chemistry is still flinting off those, at times, nasty and, at other times, heady productive sparks. "I think we just really kind of get high off of each other. We fight a lot, but also there's a lot of 'I love my band,'" said Stelmanis. "We were thinking of getting a bassist, but we have such a good band dynamic, such powerful energy, we're kind of scared to let someone else into the equation."
This nervous energy and tension, and the three members' different backgrounds are evident in Galaxy's onstage work. They are not entirely sure in their performance, as the three threaten to spring in different directions, but somehow manage to stick. Nonetheless, they are going to give you a hell of a time listening to the mess, the confusion, the amalgamated delight of it all. McKenna and Stelmanis's strong vocals are as different and complementary as Corin Tucker and Carrie Brownstein's (both are big fans of Sleater-Kinney). Stelmanis also lists power-vocaled Queen, PJ Harvey, Tori Amos and the White Stripes as influences on vocal style. Postepski's years of drumming lessons showboat a diversity of patterns from military beats to shimmery transitions into chaotic fury that make you wish there was a crowd to mosh and bop around in instead of just you tapping your toes insatiably and sort of wriggling around in minor seizure.
McKenna and Postepski are students at the University of Toronto, with the former majoring in women's studies and the latter in percussion, a musical praxis combining radical philosophy and careful practice. Stelmanis is the conceptually artistic element, with her own side career as an experimental music composer and training in piano and opera. Despite all of their training, however, they have still faced opposition from the classical music front at the university." (Maya) has had problems auditioning for orchestras because classical music is not very accepting of rock and roll music here," said Stelmanis. "They don't approve of her commitments outside school. We practice at the university faculty of music, but the students there don't take us seriously." For such a young band that has already played with Erase Errata, Kids on TV, the Stolen Minks, the D'Urbervilles and the Organ , maybe it's time the establishment started taking them seriously.