Going Down: The Official Guide to Cunnilingus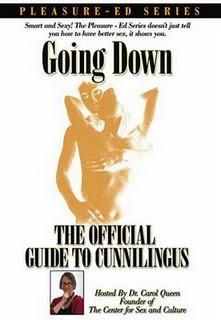 Dr. Carol Queen may be a noted sex educator and renowned for her ability to openly address the subject and raise awareness of healthy, pleasurable sexual relations for us all, but she's a little over-the-top in this video. Displaying slightly better production quality than a basement porn or self-made flick, Queen explains in appropriate detail the elements of desire and orgasm through cunnilingus. Once that mission is accomplished, it's arguable that this video's audience is those viewers with some sexual inhibitions, or who are just delving into a comfortable space to talk about new sexual experiences with their partner. More experienced connoisseurs of sexual practices might have a giggle at again seeing the labia pillow, for example.
To the video's credit, a variety of relationships are portrayed, though each scene is of someone performing oral sex on a woman. Different ethnicities and sexual relationships are presented, making the video lesbian-friendly and less heterocentric. Also to its credit, many scenes of cunnilingus last quite some time—a good example to demonstrate to a partner who is new to oral sex to help them recognize that this stimulation can take different amounts of time in women to result in orgasm or pleasure.
It is disappointing, however, that the variety in body types is simply a range of hair color, tattoos, and piercings rather than significant differences in sizes or even shaved or unshaved vaginas. Though the video purports to use "regular people" as actors, research reveals that a few of the characters performing as a couple learning about their sexuality are actually erotic film stars of note.
The video does weave instructional and frank conversation with long segments of images and action; for those interested in simply the erotic viewing of the lesson, there is no voice over on the scenes. This is perhaps a good video for sexual beginners, or for a couple new to one another to break the ice. Groundbreaking in its filmmaking or lessons this video is not, though it is valuable as a safe, healthy expression of sexuality.