Going Gray: How to Embrace Your Authentic Self With Grace and Style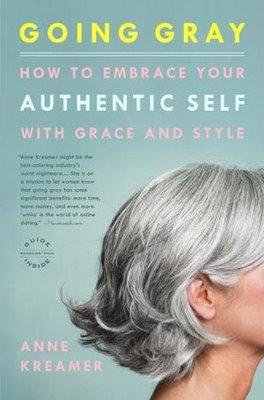 With predominant silver streaks cropping up in the underside of my dark hair, I have to admit that I was excited to see what this book was all about. I wasn't disappointed. Kreamer put a lot of effort and research into the work.
Bravely, she takes the plunge into letting her natural hair color grow out from the dyed. It takes courage, determination, and much soul reflection along the way.
As she grays, she investigates many avenues that relate to the cosmetic industry, including hair coloring, plastic surgery, and advertising. No stone is left unturned, not even advertising geared towards men.
It is very interesting that the media presents dyes, makeup, and surgery as gimmicks that make men and women look more "natural," instead of what they really appear to be without any "enhancement." 
Kramer works with professionals to come up with surveys that poll the general public, and even goes so far as to create fake online dating identities to gain feedback on preferences. Turns out, gray hair is hot—if the person wearing it has confidence. 
Attitude is more important than artificially trying to look younger. Besides, after studying examples, people can generally tell how old you are, even if you've dyed all the gray/silver out of your hair and have faithfully Botoxed the wrinkles out of your face.
She makes a very good point about tackling self-perception; it's about lifestyle, not just throwing dye on the hair. Wear the clothes that suit your personality, exercise, examine how you feel about yourself and why.
The only drawback to the book was that she didn't really pay attention to people who don't have the money or interest to attend gyms or go to salons in the first place. Her study focuses on people who spend money at the gym and the salon, not on people who exercise at home or out in nature and aren't materialistic. Otherwise, the book was very inspirational on many levels.