Growing Roots: The New Generation of Sustainable Farmers, Cooks, and Food Activists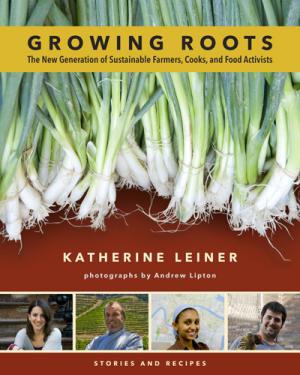 Seared Scallop Salad with Honey Vinaigrette and Moqui (Spicy) Mac (n'Cheese), yum. This was simply the one of the selections of delicious recipes in Growing Roots that I attempted with the assistance of my boyfriend/sous-chef. But Growing Roots is much more than a cookbook. Chronicling one woman's cross-country road trip and profiling folks on the ground at every level, from composting queens to herbalists to family farmers to social entrepreneurs-restaurateurs, Growing Roots is a unique window into the breadth of labor and love that is going into the ever-growing movement of food sustainability.
Each interview flows into the next by region, not issue area, but it works because you get the sense you are tagging along on this road trip with Leiner and her dog, Luna. Leiner gives a little exposition on how she met the people she interviews and where she spoke with them along the way in her travels; interestingly though, she predominantly uses their own words. Interviews focus on the daily lives and progress of their work on sustainability. Most of the profiles are complemented by each individual's favorite recipes; most include ideas for breakfast, lunch, dinner, and dessert, and all of them look incredible. The two I made on Sunday, mentioned above, were scrumptious and strangely complemented one another, even though they came from different folks.
From the scope of the interviews, Katherine Leiner appears to have a real insider's connections throughout the industry. She notes lots of personal relationships, and though she tries to sound down-to-earth her Manhattan foodie fabulousness bubbles up again and again. It appears that she sees the book as a platform to highlight the little people of the sustainability world. Perhaps she sees it as doing her part, or perhaps she has compiled this as a pet project simply because she can.
Ironically, everyone highlighted in the book describes sacrifices they've made in order to do this work. Day jobs that they love and feel are so important leave them with limited means or other losses. Juxtaposed with Leiner, it seems at times she is almost using them. But to be fair, I come from very much the same school of privileged environmentalism that Leiner does, and the opportunity to credit these hard work activists is incredible—very few people could pull it off.
More than anything, the consistent pattern of each interview would seem to get old quite fast, but it doesn't at all. Each person's story is compelling and inspiring and makes you want to read more and more. It even began to create grand delusions in my own city girl mind about the beauties of farming and that even I could be capable of it. Now, that's a hell of a book.