This Is Happening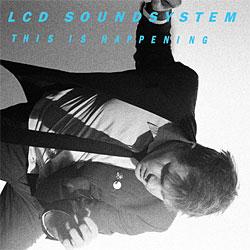 This can go one of two ways. You can put this album on the loudspeakers of your choice and busy yourself with life until the best beats drop and you are unable to stop yourself from dancing around wildly, close to whatever said speakers you chose. Or, you can do as I do: ready the tunes, put on the headphones, and sit down. You're going to need to fully absorb the genius before you try to dance to this record.
How does one come to produce some of the greatest ironic dance music of the decade? As co-founding producer of DFA Records, James Murphy certainly learned from some of the best. For me, his legacy is a blend of Le Tigre remixes, that forty-five minute album he made for Nike, and LCD Soundsystem songs about distance, love, and sorrow.
The Sound of Silver singles—namely, "All My Friends" and "Someone Great"—defined my grad school years in Boston, a time of healing from heartbreak, strangely disappointing friendships, and a renewed sense of self and personal goals. What will This Is Happening mean to my life? What will it mean to yours?
Though "Pow Pow" was released on Record Store Day, I have been told that "Drunk Girls" is the album's first official single. There's likely one driving factor behind that decision: it's the album's shortest song, clocking in at 3:44. Every other tune pushes the six, seven, eight, or nine-minute mark. I also hear early album critics don't like the track. No matter; I don't believe in that baby/bathwater dichotomy.
Most acts wouldn't open a nine-track album with a nine-minute song, but most groups are not this type of brilliant. It takes more than three minutes for "Dance Yrself Clean" to move from a few handclaps, cow bell, and deadpan chants to a full-fledged synth-infused dance-punk anthem, but then, that is the point.
Similarly, the build-up in a song like "You Wanted A Hit" is—at least for me—one of the main reasons to listen to a band like LCD Soundsystem. Three minutes into the track, you're still waiting for the chorus to kick in, for the heavier beats to drop. "You wanted a hit/But we don't do hits," Murphy chants. Only he's wrong; they do hits in every single song.
Should I be comforted or absolutely fucking terrified that Murphy, a man twelve years my senior, sings about the very things that plague me? How can an album so closely mirror my entire existence? Consider some of the lyrics of "Home:"
This is the trick
Forget a terrible year
This is what you waited for
If you're afraid of what you need
Look around you, you're surrounded
It won't get any better
What can I say about This Is Happening that Murphy does not himself include in the lyrics? "I can change/If it helps you fall in love."
I could bemoan the Internet rumors that this is the band's last album. Instead, I will cherish what I have, now. With references to moving to the back of the bus and the desire to wake up next to the girl you took home last night, this album is the perfect blend of indispensable '00s hipster aesthetic and thoughtful analysis of our cultural zeitgeist.