Hazel Scott: The Pioneering Journey of a Jazz Pianist from Café Society to Hollywood to HUAC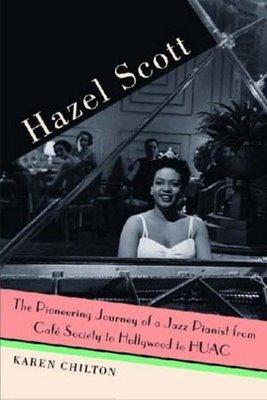 Sometimes when I read autobiographies and biographies of revered artists, pioneers, and notables, I often become absorbed in their beginnings as if they were happening in the present moment and their endings as if they had just passed. This is done easily when the writer blends eloquence with knowledge as is the case with Karen Chilton. Chilton presents the life of Hazel Scott with the exquisiteness with which Scott lived her life.
At a time in American history when musical innovation seemed a necessary creative prescription for the societal madness, Hazel Scott's timing could not have been more perfect. Born on June 11, 1920 in Trinidad, Hazel Scott was the fifth and only child to survive beyond infancy. Perhaps, there was a subconscious need to rectify the situation in a consolatory manner through musical prodigiousness. Hazel began formally studying classical piano with her mother, Alma, an accomplished pianist herself. Hazel and her family later relocated to Harlem, thus giving her the chance to expound upon her classical training with the informal teachings of Art Tatum and Fats Waller. Hazel's mother had not only musical talent but also, entrepreneurial cooking skills that would bring to their home some of Harlem's most creatively elite such as William "Count" Basie and Billie Holiday, to name a few.
The latter half of Hazel's life was just as exciting as the half that led up to it. Scott had always been outspoken with a low tolerance for BS and a strong desire to do things her way. Her musical bravado of blending the classical with boogie-woogie could only be matched by her shrewd business skills. These skills were a lot to be spoken for considering the fact that there were few Black women of her time who were insistent on maintaining their artistic and personal integrity from the times of the Great Depression through the civil rights era. Her other notable match was her husband, Adam Clayton Powell, Jr., with whom she would create a formidable pairing known the world over. Hazel Scott's life was not just intertwined with greats on one side of the color or gender spectrum. Her exceptional and innovative talent for blending went beyond any musical genre into the scope of politics, gender, and class.
Those who call themselves jazz or music aficionados may know the name Hazel Scott. However, those who simply like jazz and are familiar with the likes of Miles Davis, Ella Fitzgerald, and John Coltrane may not have had the fortune of familiarizing themselves with her genius. Karen Chilton eloquently and knowledgeably increases our musical wealth.