Headache Soother Badger Balm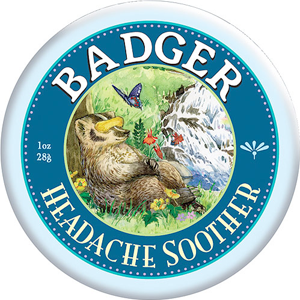 I suffer from migraines. They date from the eighth year of my life, but it took until my junior year as an undergraduate to get much-needed prescription drugs. After a three-day headache left me unable to leave the house, I squinted and hobbled to the nearest bus stop and took a shuttle to the student health center. The kind physician who met with me also suffered from debilitating migraines. "Do you twist your body into weird positions for relief?" he asked. When I immediately nodded my head affirmatively, he began nodding as well. "Only a fellow migraine sufferer understands what I mean." He wrote a script, and a trip to Walgreens later, I began popping pills that have since saved me from indescribable pain.
As the years have passed, I've gained insight into my own condition. Several years ago, I began acupuncture treatments, which radically improved my physical and emotional health. I still get migraines, but they have decreased in frequency and intensity. As much as I've wanted to find relief in holistic tablets, however, nothing works for me like cocktails of ibuprofen and Excedrin or prescription sumatriptans. When I can't call on my acupuncturist for needles, I get additional respite from cooling patches on my head and neck, shoulder, and foot massages from my brilliantly supportive partner.
Badger Balm makes a Headache Soother that—while not an all-in-one cure—is a palliative blend of peppermint, eucalyptus, lavender, mandarin, and sandalwood oils. The scent alone is respite from distracting pain. The extra virgin olive oil-based balm rubs on with no resistance, and does not leave an unpleasant residuum that takes several hot showers to fully scrub away. Unlike the Tiger Balm my partner prefers for his achy shoulders, my animal-titled salve has no medicinal properties.
The Badger Balm tin features a badger resting by a stream, eye mask in place to block out intrusive lights that often aggravate headaches. It says that it can be rubbed "anywhere you feel a bit tense." The one-ounce tin also says, "We hope you feel better soon!" Me too, folks.
Badger balms, oils, soaps, body butters, and sun care are made with mostly organic and 100% natural ingredients in New Hampshire. They also make products for babies and children, as well as lip balms in sticks and tins. While they do use beeswax in their products—as a vegan, this is admittedly problematic—they do not test on animals and encourage recycling. The W.S. Badger Company feeds their employees a 100% organic lunch every day, and company employees are paid to volunteer their time for local environmental causes.
While I am not a short-legged, wide-bodied carnivore, I feel a kinship with the badger. They burrow, and I'm also known to tunnel under the covers when my head hurts. They do not hibernate, though they can sleep for long periods of time. The longest I have ever slept in a migraine haze was seventeen hours straight, and only after persistent shaking could I be roused. One can only wonder how long I would have dozed. I hope my healing product's namesake does not suffer as we humans do—and if they do, may it not be because of us.