From The Heart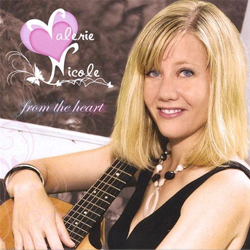 "Just 'cause I'm laid-back don't mean I'm easy," begins the album. "I am more than just a plaything."
I am reminded of the first time I ever waited on a boy to call me. I was sixteen-years-old. Like a dork, I waited all day anticipating his call. My family rolled their eyes at my eager naiveté, and I found myself walking around my parents' backyard with a big cordless phone bulging in my back pocket. Finally, I gave up and called him late that night. He had completely forgotten about me. He realized and quickly made up some lame excuse about a fire. I heard a girl giggling in the background.
I'm considering giving my niece this album when she's older. It's not only because the music sounds sweet and happy, accessible to someone very young; it's because the majority of the album's songs concern love and relationships from an innocent yet strong point of view. Hence, the album name From the Heart.
These sentiments about relationships would be good for anyone ingenuous to hear. The positivity of "Live Your Dreams," the loneliness of "My Turn," and beginner's politics of "Wake Up" would also be beneficial for those with green horns. Domestic violence is also brought up in the song "His Love," rightfully melancholy next to the more upbeat tracks.
Valerie Nicole's work can best be described as country-influenced pop music. Her vocal sound and overall musical style easily hold hands with performers such as Sara Bareilles and Saving Jane. I have my suspicions that Valerie is a Southern belle—or at least she sings like one, slow and steady with a slight twang. The lyrics are simple and innocent, with a few edges of sadness. The musical arrangements are basic—guitar, keyboard, and drums for the majority of songs. In short, it's pure pop. This is Top 40 material in the making.
Nicole's music is the perfect soundtrack for TV shows, movies about high school, Claire's boutique, and other places bubble gummy pop is called for.