The Hebrew Tutor of Bel-Air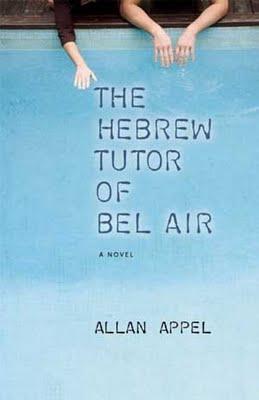 The back copy for The Hebrew Tutor paints a picture that is enticing:
Under threat of nuclear war and the gorgeous California sun, the two [Norman and Bayla] forge a tentative truce. They may not be learning Hebrew, but through the miracle of motorcycles and the epiphanies of the road, Bayla and Norman just might learn to shape their own destinies. And—for a few precious hours—become a latter-day Bonnie and Clyde searching for a reverse Jewish nose job in the City of Angels.
This paragraph implies that we will spend quite a bit of time with "the two," Norman the Hebrew tutor and Bayla the tutored. It implies that this time will be full of adventure, riding motorcycles, under threat from things unseen, playing at Bonnie and Clyde. It suggests a cheeky 'eff you' to Hollywood dogma. All of this happens... but it doesn't receive the focus the copy suggests.
The majority of the book focuses on Norman alone. He is seventeen, and turning into quite the Hebrew scholar, yet he doesn't feel a strong spiritual connection with his studies. His student is impossible—she wants nothing to do with this Bat Mitzvah stuff. Rather than fight her, Norman sits back passively and lets Bayla waste their time. He observes the goings-on at Bayla's, contrasts their rich lifestyle with his family's poverty, and feels shame. Still, he does very little.
Things and people happen to Norman; he does not effect change on his own. As such, the book is fairly slow, trapped in the tutor's head. His thoughts are interesting, but not really enough to sustain the bulk of a novel.
It isn't until the very last that Bayla takes control and the promised motorcycle escapade—full of unexpected twists—happens. Even here the pacing is strange, with several very important days condensed to a few dozen pages. I devoured that part and then wondered why it was so short.
Appel has provided plenty of material for a longer, more immersive discussion of many topics. The setting alone is interesting: A Jewish community in 1960's Los Angeles, with the Cold War looming. The romantic and married relationships in the book are all less than healthy. Norman's father is a chronic gambler. What is it about Jewish nose jobs? And what sparks Bayla to go looking for a reversal when her own nose is already petite? Perhaps most interesting to feminists: how can Bayla's parents even joke about marrying her off to 'keep her under control?"
The Hebrew Tutor is poorly proportioned, spending too much time following Norman's passive ambling and not enough examination of what happens around him. That said, I like the initial idea behind The Hebrew Tutor, and I like the look of Appel's other books, which also deal with religion in a modern context. I'd like to pick them up and see how they compare.