Hotel Iris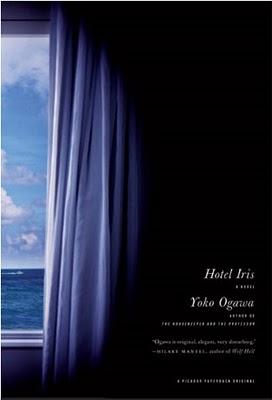 Having been forced to drop out of school to work at her family's seaside hotel in Japan, a young woman named Mari suffers through days marked by routine. She cleans rooms, minds the desk, and attends to the needs of the guests. The novel Hotel Iris explores what happens when a girl breaks free of a life of controlled repetition, only to fall victim to an even more brutal cycle of submission and domination. Taking shape slowly, like the way breath comes on a hot summer day, Mari reaches so far into the depths of her own fantasy that she eventually chokes on it.
The story begins when a translator and a prostitute have a fight in Mari's hotel. The seventeen-year-old is drawn into the sureness of the man's "beautiful voice giving an order, with no hint of indecision," as he barks insults and orders at the woman. "Even the word 'whore' was somehow appealing." This is the beginning of the end for both the translator and for Mari, as they enter into a secret affair.
Violence is found in every aspect of Mari's life, even the common procedure of styling hair is painful and brutal. Mari's mother is so controlling that she insists on doing the girl's hair, the force of the tugging dependent upon the older woman's mood. Eventually, Mari leaves one dungeon for another, thus transferring violence from the hotel to the translator's island, an isolated home off the coast that can only be reached by boat.
Publicly careful and timid, Mari's time on the island is full of pain, pleasure, and submission. As the translator's violence increases, so too does Mari's desire. The translator is decifering not only Russian pamphlets but also this young girl's body, expanding her worldview. The suspense in Hotel Iris is as suffocating as the heat, and metaphors are both abundant and rich.
The physical action of the characters says more than psychoanalysis could, and Ogawa does not overanalyze her characters' behavior. Many writers fall victim to saying too much, but Ogawa's chief strength is that she doesn't feel compelled to explain her characters' motivations. Instead, the iceberg is acknowledged without being examined.
The restraint shown in the early sections of Hotel Iris is sadly lost in its final few pages. Too much is explained at once, and the result is a rushed, incomplete closing to such a poetic and nuanced novel. The tension that held the story together ultimately dissipates with little pay off. Ogawa's patient weaving of an enthralling tale is what keeps the reader suspended, waiting to see if everything will drop and knowing that, if it does, the fall will be far and dangerous.