Hung Like A Horse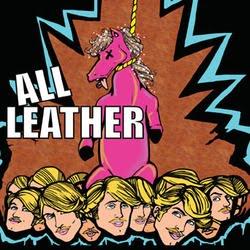 Members of The Locust and Some Girls make up the edgy electro-punk industrial outfit All Leather, mixing angelic screeching over electro beats and spastic hardcore pummeling, which are all packed tight into ten glorious minutes of the Hung Like a Horse EP. All Leather consists of guitarist Nathan Joyner, Jung Sing on drums, and Justin Pearson doing vocals. They collectively rail against all that is decent with dirty synths and lyrics to match. Indulging in their playful hedonism, Hung Like a Horse isn't as much decadent as it is audibly interesting. There is a pounding undercurrent that consents to headbanging while allowing itself to delightfully canoodle with the bouncy elements of electro-dance.
Colorful song titles will relay the story before even hitting play. The music itself almost garners more cred by combining earnest raw energy with their unfettered sense of humor. "As The Hog Pisseth" opens the record with a sledgehammer of metronome beats dripping in "Miller-Lite fantasies," as the amusing lyrics suggest. Next up, "We're Skrewed." Pearson punches the lyrics hard enough to match the intensity of Sing's beats. Drums and lyrics work in tandem throughout like a diabolic tag team as Pearson belts, "Civilization… vs none." The kinetic "I Don't Hate Fags, God Does" has you dancing in place amongst the hippest of hipsters, while gleefully throwing elbows left and right, reveling in the thrash curveball thrown. "Audios mi Amoebas" works the industrial magic with pulsating white noise. The aggressive fusion builds and accelerates until the very last note.
Post-punk bliss, albeit thrashy and brash, Hung Like a Horse works on many levels. It delivers the goods if you appreciate heavy spastic rock made interesting and fun, thanks to spirited electronic dance grooves. The EP gets to the point pretty quick, clamps down hard, and draws a little blood between minutes six and seven. They know how to replace the pop with the sludge all while staying true to the raucous energy that defines it.