Images of Women, Volume 2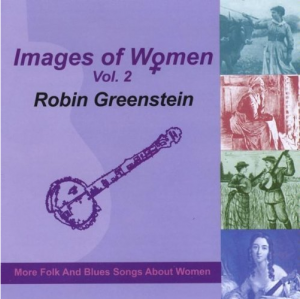 Several years ago, native New Yorker Robin Greenstein issued Images of Women, Volume 1, which delivered fourteen folk songs about women's depiction in the genre, based on her concert-lecture on the topic. Images of Women, Volume 2 delivers fourteen more numbers about women, mostly traditional in musical style.
Songs range from comical to jaunty to sorrowful. In "Father Grumble" a farmer complains that he works harder than his wife, but when they switch chores he ends up swearing "by all the leaves in the trees and all the stars in heaven / that his wife could do more work in a day than he could do in seven." "Born in the Country" has a rockabilly beat but the structure of the blues; our lusty but proud narrator tells us "a country girl ain't anybody's fool" and warns her former lover to stay away on pain of death.
"The Cruel War" focuses on women's lot in wartime: a woman begs to accompany her lover to war and eventually he relents. In "Bold William Taylor" a woman disguises herself as a soldier to find her lover. Discovering he has abandoned her for an heiress, she guns him down. In a bizarre twist, the captain of his regiment who witnesses this act is not only impressed by her determination, but makes her captain of a ship! Overall, the sparse arrangement fits the plaintive tune perfectly.
Woody Guthrie's "Union Maid" extols the virtues of an organizer who refuses to be scared by the company's hired goons, while the narrator of "I'm Gonna Be An Engineer" by Peggy Seeger (Pete's sister) is discouraged from pursuing her dream. The disc concludes with a rendition of Christine Lavin's "Good Thing He Can't Read My Mind," which hopefully will make listeners aware of one of the funniest folk musicians today.
Greenstein's songs are backed by acoustic guitar and banjo, and fiddle often sets the pace. The steady bass gives many numbers a singsong beat, and harmonica, percussion, harp, and recorder add just the right touch. This is a basic introduction to folk music and a sing-along tribute to the changing roles and perceptions of women through the ages.