Impatient with Desire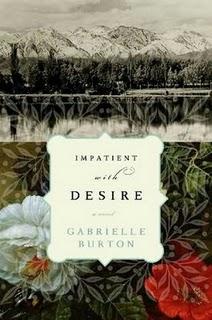 Impatient with Desire is the story of Tamsen Donner, now-legendary westward pioneer. Tamsen was forty-five when she set out on the California-Oregon Trail with her husband and five children in the spring of 1846. Stranded by early snows, Tamsen and the other Donner Party pioneers spent a harrowing four months in the Sierra Nevadas without supplies. Tamsen sent her daughters out with relief parties and stayed behind with her wounded husband; she died sometime in April 1847, leaving only her letters and a journal that was never recovered. Impatient with Desire is a recreation of that lost journal.
Burton's meticulously researched account mingles her own prose with phrases from Tamsen's extant letters, with engaging results. From her shelter in the Sierra Nevadas, Tamsen remembers her girlhood in Newburyport, her courtship and marriage with her second husband, the bustle of their preparations to move west, and the hardships of trail life. Burton captures the voice of this remarkable woman, a schoolteacher and botanist who traveled alone from Massachusetts to Illinois and left behind a spirited collection of letters to her sister Betsey. "In my lifetime people have sometimes wondered at my conduct, but they have never despised me," Tamsen writes, thinking back over her travels. "And I shall never be despised."
Tamsen's independence does not go too far, however, in securing her voice on the trail. One of the most harrowing moments in Impatient with Desire is a campfire scene where the party's men debate over whether or not to take the Hastings Cutoff, the ill-advised shortcut that ultimately left them stranded. Sitting beyond the circle of men with her journal on her lap, Tamsen records the fateful vote, convinced that no woman in the party would have agreed to the decision. Months later, searching for empty spaces in her filled journal, Tamsen muses, "You can write a whole book in the margins." Tamsen's marginalized pages remind us of marginalized voices: a "schoolteacher doing life and death sums," Tamsen is at once a mother, wife, traveler, scribe, voteless companion.
Despite her exclusion from trail politics, Tamsen still maintains an equal companionship with her second husband George. The story of their marriage blends the objects and scenes of memory with the bleak mountain campsite. These vivid recollections—holidays and children's birthdays, the decision to move West, the frenzy of preparations, and the excitement as the party sets out from Independence—bring Tamsen alive as a historical figure. Reminiscence finally yields to grim inventory as, in spare, elegant language, Tamsen records taking apart her family's shelter, her botany collection, even her journal cover, for sustenance.
Burton's Impatient with Desire is more evenly composed than her memoir about her cross-country journey in Tamsen's tracks, Searching for Tamsen Donner. I began the book a bit skeptical about its valorization of the American frontier, and I kept reading because I wanted more Tamsen. Donner Party lore has often focused on the cannibalism of the pioneers (confirmed facts about the Donner Party's struggles are notoriously scanty). Burton deftly negotiates this tale of outward struggle to bring us a story of inner survival as well. I read Impatient with Desire with a kind of grim fascination; Tamsen's endurance and the powerful elegance of her narration stayed with me long after I finished the book.
Finely crafted and spellbinding in the calm pain of its heroine, Impatient with Desire is historical fiction at its best. Readers interested in women's history, westward expansion, wilderness tales, and historical fiction will find much to ponder.