Irish Pages: The Home Place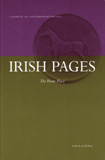 Edited in Belfast, the biannual journal Irish Pages brings together writings from contemporary Ireland, across Europe, and around the globe. The journal self-describes as "non-partisan, non-sectarian, culturally ecumenical, and wholly independent." American-born editor Chris Agee has lived in Ireland for more than thirty years, and Irish language editor Cathal Ó Searcaigh was raised in an Irish-speaking district of County Donegal, northwest Ireland.
In "The Home Place," the sixth volume of the journal, the editorial team has brought together an impressive assortment of selections from twenty-one writers, ranging from the reflections of an emigré returning home to an essay by filmmaker Mira Nair. I cannot readily think of another journal where I would encounter contemporary short stories translated from the Maltese along with a beautiful range of Irish poets. Of the short stories, my favorite was "Caillte i gConamara/Lost in Connemara" by Micheál Ó Conghaile, an intense tale of grief, prayer, and lovingly conveyed wild countryside.
As a child, I heard stories from my grandfather about teachers prohibiting the use of Irish in school in the 1930s. This affected me deeply, and when finally I visited Ireland, I rejoiced in the numerous bilingual signs and sought to learn as much Irish as possible. The preservation of languages excites me, and I am thrilled to see contemporary Irish/Gaeilge language writing published (with English translation) in Irish Pages.
Each volume of the journal includes a selection of photographs, and this one contains a portfolio from Frank Miller entitled "Bog Bodies." These artful (yet, for me, a bit chilling) archaeological photos show the Iron Age bodies, circa 300 BCE, that were unearthed in 2003 and are now displayed at the National Museum of Ireland in Dublin.
While it is difficult to choose the most outstanding poems, the late Caitlín Maude penned my favorite line in the volume: "I crave the verse/that will set my soul straight." For this line I am grateful to the editors, who lift up the writing of Irish authors, and to the translator Nuala Ní Chonchúir, for making this writing available to those of us who cannot read Gaeilge.
While this journal reignited my love of Irish, the publication transcends limitations of nation or tongue, and is well worth reading.