The Jealous Girlfriends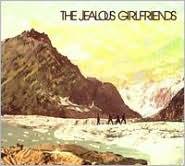 When the package arrived in the mail containing The Jealous Girlfriends' new, self-titled album, I had just been laid off. Requesting to review the album solely on what I deemed to be an excellent band name, I've been in the mood for quiet lovelorn angst, I suppose. If both the words "quiet" and "lovelorn" may reside in a territory of artistic license and open-ended transition, that is. And, apparently, this is a conducive bedroom state to be in for entertaining a record such as this one.
Capturing summer's moody ambivalence in lyrics both embittered and smartly upbeat, "How Now," the second track on the album, manages to skirt the trap of love song with lyrics like "You can bury me with your bullets and your crime/They're one in the same/And I won't blame you for trying." "Organs on the Kitchen Floor," a slower-paced, bluesy track, maintains the somewhat seedy femme fatale-esque element of love equated with crime and entrapment: "So don't leave your organs on the kitchen floor/And don't forget to close the door" is just the kind of simple lyric capable of tuning in to the cruelty of keeping distance heavy. The heavier ballad, "Gift Horse," offers more warning with "You said your name's a secret/Although you're dead... or so you claim."
Balancing itself with uptempo pop, chord progressions reminiscent of The Breeders, and slower songs to seek out bluesy vocalist-based ambiance, The Jealous Girlfriends is an excellent mix for representing stand-still as thoughtfully hesitant pop. If The Jealous Girlfriends mean to soundtrack benign, underlying numbness with synth and psuedo-surf riffs, they've succeeded - and given us heartache-prone listeners something to long for.