Just Like Me Unflavored Unscented Lubricant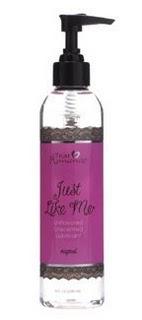 Let's Get Ready to Rumble!!! Those were my thoughts when I received a sample of Just Like Me Unflavored Unscented Lubricant. It did not take much coaxing for my husband to agree to help test this product.
Just Like Me Lubricant definitely lived up to its name. This product provided the long-lasting sensation that is needed to ensure that sex is enjoyable for both partners. Packaged in a generous size bottle, Pure Romance provides enough lubricant to last throughout the night.
Pureromance.com rates Just Like Me as one of the company's top selling lubricants. The product is water-based, and the sensations received from using this product provide the feeling of natural lubricant.
On a scale of 1-10, I give this product a 10+. It does not contain a smell, which would leave your stomach upset. It actually is unflavored; therefore taste buds are not left with an odd taste.
Add this bestseller to your collection. Log on to Pure Romance to order this product and view more items offered through the company!